UPDATED: 12:10 p.m., April 8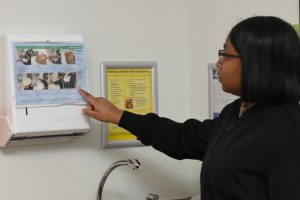 As the number of COVID-19 cases increase across the county, we have decided to regularly update this page with numbers and information. This data is likely to change often. 
Confirmed COVID-19 cases in Bucks County: 816
COVID-19 patients in the hospital in Bucks County: 51
Bucks County COVID-19 patients on ventilators: 11
COVID-19 patients that have recovered in Bucks County: 134
Maps of towns with at least one case: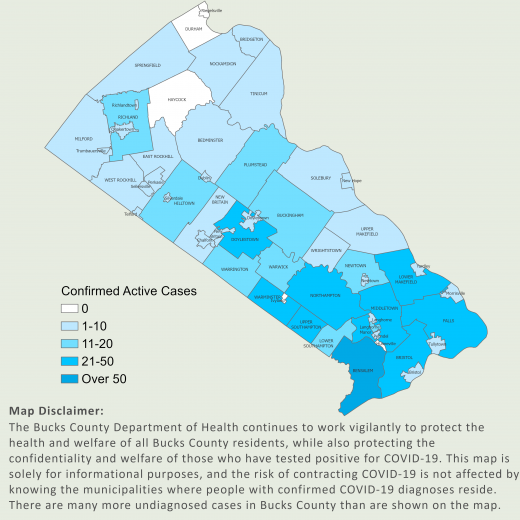 Is there sustained community spread in Bucks County? Yes
Confirmed cases in Pennsylvania: 16,239
Number of COVID-19 patient deaths in Pennsylvania: 310 (24 in Bucks County)
Stats on those with COVID-19 in Bucks County: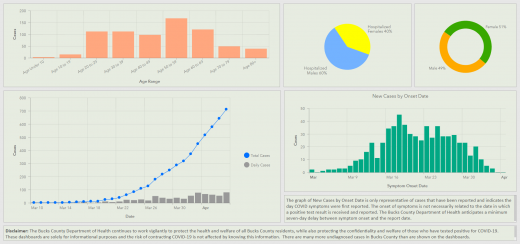 Maps of cases in the state (Bucks County data may be delayed):
Of the patients in Pennsylvania who have tested positive to date the age breakdown is as follows:
Less than 1% are aged 0-4;
Nearly 1% are aged 5-12;
1% are aged 13-18;
Nearly 7% are aged 19-24;
41% are aged 25-49;
29% are aged 50-64; and
20% are aged 65 or older.
How many COVID-19 tests have been done in Pennsylvania? Negative – 82,299 / Positives – 16,239
COVID-19 cases across America: 399,979
COVID-19 patient deaths across America: 12,912
Total population in Bucks County: 626,486
Total 60-plus population in Bucks County: 151,809
Number of ICU beds in Bucks County: 90
How far away do you need to be for social distancing: 6 feet
Read NewtownPANow.com's ongoing coverage
The Bucks County Health Department will be operating on extended evening and weekend hours to answer your calls and help with your concerns.
Please use 215-345-3318 or email to: COVID19@buckscounty.org. If the line is busy, please leave a message and calls will be returned as soon as possible.
Bucks County Seniors can call 267-880-5700 for assistance, as well as information on services such as meal delivery and independent care.
This number is answered Monday through Friday, 8:30 a.m. to 4:30 p.m. After hours and weekends, seniors and their caregivers can leave a message and the Area Agency on Aging will return the call.
Key links:
Bucks County's COVID-19 data portal
Pennsylvania Department of Health data site and health-related information
The state's site loaded with COVID-19-related resources