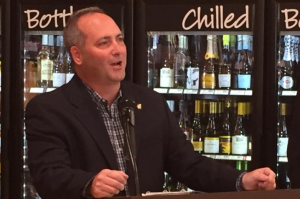 State Sen. Chuck McIlhinney of Pennsylvania's 10th District announced on Friday morning that he will not be seeking re-election in 2018 and will retire at the end of his term.
McIlhinney, a Republican know for working across the aisle, entered public service by as a Doylestown Borough council member. He was elected to the state house of representatives via a special election in 1998. McIlhinney served in the 143rd Legislative District of the House of Representatives until 2006, when he made the jump to the state senate.
McIlhinney's district serves a number of communities. Among them: Tullytown, Falls Township, Morrisville, Newtown Township, Newtown Borough, Lower Makefield, Upper Makefield, Doylestown Borough, Doylestown Township and a number of other towns in the central and upper portions of Bucks County.
"I entered public service to make a difference for my community and the people who live here," McIlhinney said. "I can look back proudly at my time in office and my accomplishments, but now it is time to move on and allow a new leader to take over."
The state senator's office noted that McIlhinney's tenure was largely marked by his reputation for independence and his propensity to work on tough issues facing the state. Work on liquor laws, helping companies avoid layoffs, banning smoking in restaurants and increasing state transparency through updated Open Record laws are all pieces of the career McIlhinney has put together.
"I have never focused on party labels, only on trying to do what is right for the people of Bucks County who I represent and the Commonwealth of Pennsylvania," McIlhinney said. "By focusing on issues instead of politics, we have helped move Pennsylvania forward in an era where new challenges present themselves everyday."

"It has been an honor to serve the people of Bucks County.  Their support as I have worked to make the area I have always called 'home' a better place is humbling. I cannot thank them enough for allowing me to do so," he concluded.
McIlhinney looks forward to spending time with his family, according to his office.