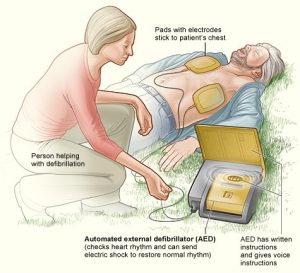 Bucks County has approved the purchase of 75 Automated External Defibrillators (AED) for use across the county.
An automated external defibrillator (AED) is a lightweight, portable device that delivers an electric shock through the chest to the heart. The shock can potentially stop an irregular heartbeat (arrhythmia) and allow a normal rhythm to resume following sudden cardiac arrest (SCA).
The purchase comes to the tune of $98,388.
According to county officials, the number of defibrillators was determined after taking a survey of all county buildings and determining which buildings had the technology and which did not. The county made an executive decision to purchase one for each building floor to ensure every county building would be outfitted with the life-saving device.
The number purchased will fill out the remainder of the county buildings.
Officials have noted that there are hopeful plans to purchase more for larger buildings down the road, but that making sure each building had at least one was a top priority.
The devices will come installed, and little training is needed to operate the device in times of an emergency. The device walks the user through the procedure by verbally explaining how to operate the device and what to do.