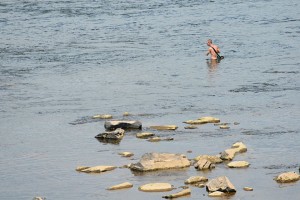 Pennsylvania's 2019 River Of The Year isn't the mighty Delaware.
This week, the Pennsylvania Department of Conservation and Natural Resources and the Pennsylvania Organization for Waterways and Rivers announced that the Clarion River in the northwestern portion of the state won the contest that included the Conodoguinet Creek, Delaware River, and Lackawanna River.
"Congratulations to the supporting groups who rallied around a waterway most deserving of River of the Year honors," said Pennsylvania Department of Conservation and Natural Resources Secretary Cindy Adams Dunn. "Beyond its Wild and Scenic River status, this icon of our Pennsylvania Wilds defines a wilderness of clean water and healthy forests that draws back visitors again and again.
In total, 14,790 votes were cast. The Clarion River received 5,850; Delaware River, 4,748; Lackawanna River, 2,852; and Conodoguinet Creek, 1,340.
As part of its win, the 110-mile-long Clarion River will receive special programming and attention.
The River Of The Year program has run annually since 1983 and the Delaware River is a past winner. The 2018 winner was the Loyalsock Creek in northcentral Pennsylvania.