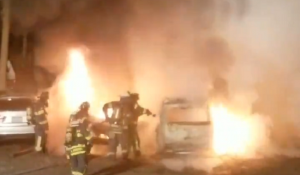 Multiple cars caught fire late Thursday night at an auto repair shop in Newtown Borough.
The fire at Lin Bethman and Son's Auto Center in the 500 block of Washington Avenue was quickly put down by firefighters from the Newtown Fire Association shortly after 11:30 p.m.
Two of the vehicles damaged in the blaze were involved in a crash earlier in the evening in the borough, police said. 
The fire appeared to be accidental, police said.
No injuries were reported.