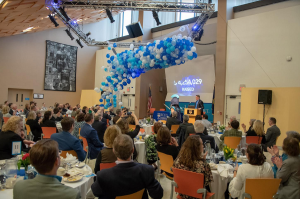 Bucks County Community College's capital campaign has exceeded its fundraising goal.
The community college celebrated raising more than $4.2 million in just three years earlier this month at the annual community awards breakfast in the Gallagher Room at the Newtown Township campus. The announcement was made with a balloon drop and cheers.
The "Building Strong Communities Together – One Student at a Time" campaign launched in spring 2016 and set a five-year goal of $3.5 million. The goal was set after a review of the philanthropic climate and "extensive discussions" between the Board of Trustees and Bucks County Community College Foundation.
"That goal was exceeded in two short years," said community college President Dr. Stephanie Shanblatt. "The Foundation Board then challenged itself, the staff and college community, as well as our loyal alumni, partners and friends by increasing the campaign goal to $4 million, which was reached in less than three years."
Donations to the campaign were made by 1,848 individuals and organizations. Among the gifts were 64 of more than $10,000 each, according to the Bucks County Community College Foundation.
"Thanks to these generous donors, we plan to expand academic and workforce education programs to meet the region's demands and better serve prospective and incumbent workers," said Shanblatt. "We will also be able to increase scholarship opportunities and expand our dual-enrollment program so students can get a head start on life after high school."
Bucks County Community College operates campuses in Bristol Township, Newtown Township, and Perkasie.