By Dave Lemery | Watchdog.org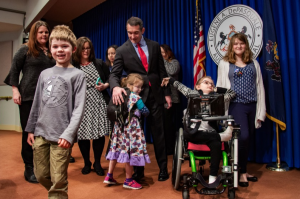 Nine years after it was signed into law, it's an understatement to say that the Affordable Care Act is still a polarizing issue.
With a renewed focus on the topic lately in national circles, officials and observers in Pennsylvania have sought in recent weeks to define how the state might be affected if the legislation also known as Obamacare is invalidated due to a legal challenge.
The Justice Department recently revealed that it will not defend the ACA, also known as Obamacare, against a lawsuit that seeks to have the federal health care program thrown out. Acting White House Chief of Staff Mick Mulvaney has sought to reassure those who receive health care benefits under the ACA that they're in no danger of losing their coverage even if the law is wiped from the books, but a number of administration critics such as Pennsylvania Auditor General Eugene DePasquale have questioned this assertion.
"The latest legal strategy is in my view, a direct attack on millions of Americans who rely on the ACA for needed health insurance coverage," DePasquale said at a news conference in Harrisburg this week. "This case would harm working families, seniors, individuals with disabilities, and college students. In short, striking down the ACA would create chaos in our healthcare system and financial ruin from many families across the state."
Flanked by healthcare professionals and individuals who rely on ACA benefits, DePasquale argued that ending the law would devastate Pennsylvania in a variety of ways.
"More than 1.1 million people in Pennsylvania can directly attribute their health insurance to the Affordable Care Act," he said. "This includes more than 800,000 Pennsylvanians who are now eligible for health coverage through Medicaid, thanks to the ACA. … In 2017, Pennsylvania received over $5.6 billion in federal funding to pay for Medicaid expansion, which is a clear legal promise from the federal government. … What would happen to that funding if the ACA is struck down?"
But DePasquale's perspective is not universal. While the auditor general praised the ACA for the expansion of Medicaid benefits to cover more individuals, state Rep. Seth Grove, R-York, recently argued that the expansion is actually one of the flaws of the law.
Responding on Twitter to a report about low Medicaid reimbursement rates harming the quality of nursing home care, Grove replied that the reliance on the program was crowding out better alternatives.
"Research after research shows [it's] the worst form of a health payment system," Grove wrote. "[W]hen you add half a million people to the [Medicaid rolls because] of ACA, it squeezes out dollars for other programs on top of ever increasing pension and bonding payments…"
One of those alternatives that has been touted by Republican President Donald Trump's administration is the reintroduction of short-term health care plans. Virtually banned under the ACA, these plans became available again this year and are generally much cheaper than other healthcare plans, though they also cover less.
"[W]e're thankful there are now some affordable alternatives to Obamacare, such as short-term health care plans," the Pennsylvania branch of Americans for Prosperity recently proclaimed on Twitter. "91% of people using these plans are satisfied."