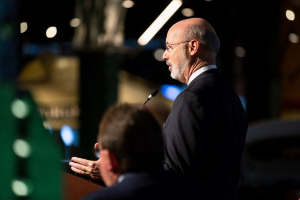 Efforts to support protections for LGBTQ Pennsylvanians received support from Gov. Tom Wolf on Monday.
Wolf, a Democrat, said he supports legislation that would provide "long-overdue civil rights and hate crime protections for LGBTQ Pennsylvanians."
"It remains an embarrassment for Pennsylvania that we stand out for failing to provide basic protections that our neighboring and competitive states have long-ago enacted," Wolf said. "The legislature should provide our citizens these basic civil rights protections. Pennsylvanians strongly agree that these protections should be in place."
Among the legislation is the Pennsylvania Fairness Act, which has been referred to the state House of Representatives State Government Committee. The bill has been introduced over the past few years and has not made it forward after several attempts.
The bill proposed amendments that would provide certain protections due to "sex, sexual orientation, gender identity or expression." The legislation provides protections for "freedom from discrimination in employment, housing and public accommodation, for definitions, for unlawful discriminatory practices and for prohibition of certain real estate practices; providing for protection of religious exercise; and further providing for powers and duties of commission, for educational program and for construction and exclusiveness of remedy."
Democratic State Rep. Perry Warren of Newtown is a sponsor of the latest version of the Pennsylvania Fairness Act. The bill has support from both Democrats and Republicans.