Take a few minutes on Thursday to be kind.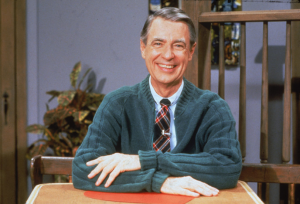 Gov. Tom Wolf, a Democrat, has declared Thursday "1-4-3 Day." Throughout the day, Pennsylvanians are encouraged to "exhibit the type of neighborly kindness Fred Rogers sought to spread around the world."
"Pennsylvania is a commonwealth rooted in kindness and generosity, and this is our day to show the world the positive impact that neighborliness can have," Wolf said.
Rogers, who passed away in 2003 after decades of being Mister Rogers on TV, is a native of Westmorland County near Pittsburgh.
Rogers often used 1-4-3 as a way of saying "I love you" throughout his life. His reference was to the number of letters in each word: 1-4-3.
"We hope all Pennsylvanians will join us in celebrating 1-4-3 Day in PA," said First Lady Frances Wolf. "The principles of love and kindness that Fred Rogers sought to spread through his work embodies who we are as a commonwealth. Even small acts of kindness can make a big difference in someone's day."
State agencies and officials will be taking part acts of kindness throughout Thursday, which is also the 143rd day of 2019. Officials also have encouraged several companies to join the effort, including volunteering to help those in need.
"Volunteering is putting love in action and we all need more love," said Second Gisele Lady Fetterman. "Volunteering — and being on the receiving end of that service — takes courage and compassion. I have been on the receiving end and am grateful to be on the giving end now."
The state has created a 1-4-3 Day page online to tally good deeds and kind gestures Pennsylvanians do throughout the day. On social media, residents can tag posts with #143DayInPA.
Philadelphia-based Quirk Books – which put out "A Beautiful Day in the Neighborhood," an illustrated collection of Fred Rogers' poetry and song lyrics – also has created a free activity guide with ideas for sharing kindness.