By Dave Lemery | The Center Square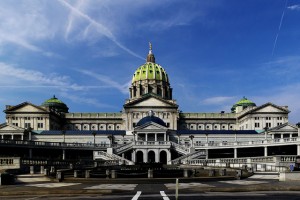 The need for an occupational license can be a tough obstacle to overcome for people seeking to work in a field that requires one. For those with a criminal record, that obstacle can become an impenetrable brick wall.
A bipartisan group of Pennsylvania lawmakers and representatives of various advocacy groups came together Wednesday to push for legislation that would address instances where people can't get approval for a license to work because of a past conviction unrelated to their field.
The gathering included Democrats and Republicans from both the state Senate and House of Representatives, as well as speakers from disparate groups such as the Pennsylvania Chamber of Business and Industry, Community Legal Services, the Justice Action Network and Americans For Prosperity.
The four lawmakers were the same quartet behind the Clean Slate legislation that went into effect in December to allow nonviolent offenders to have their record cleared. As in that case, the licensure bills discussed Wednesday have a twofold design – to allow individuals who have reformed and paid their debt to society to have a chance to be successful citizens, and to bring more qualified workers into the market at a time when companies are scrambling to find good help.
"The only way to lower the recidivism rate is to increase the employment rate for those with criminal records," said Rep. Jordan Harris, D-Philadelphia. "So when you look at this bill, as I've said with most of the criminal justice stuff that we've done in Pennsylvania, it is truly about jobs and economics."
The bills seek to address instances where professional licensure boards in the state have broadly refused to grant licenses in certain fields to those with past criminal convictions, even if those convictions are unrelated to the field in question.
The lawmakers who spoke Wednesday were particularly incensed by cases where an inmate receives job training while incarcerated, only to be denied the opportunity to use that training upon release from prison.
"Somebody comes out of Muncy [State Correctional Institution], she's gone through some training in prison … and she also goes through all of the credentialing of being a cosmetologist," said Rep. Sheryl Delozier, R-Camp Hill. "She wants to go out there and serve her community and maybe even open up her own shop. … She goes to go for her license at the Department of State, and she's told 'I'm sorry, you have a conviction, you are not allowed to have a state license,' because there's a morals clause within the cosmetology board."
Delozier allowed that there are some licenses where certain types of convictions should be disqualifying, noting that no one would want to make use of an accountant who had previously been convicted of embezzlement. But she noted that making those types of exceptions known was also part of the legislation, along with granting applicants the ability to learn if they're likely to be denied a license before they go through the time and expense of learning a trade.
"This is a very common-sense measure that will serve the public good, that will help people who have served their sentences, have learned skills, to use those skills in the community and not turn to crime out of frustration because they can't use those skills that they learned," said Dauphin County District Attorney Fran Chardo during the news conference. "We support, in the Pennsylvania District Attorney's Association, this common sense measure."
The bills were filed as Senate Bill 637 and House Bill 1477.