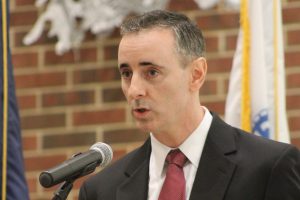 New legislation introduced by local Congressman Brian Fitzpatrick would create a $25 billion Opioid Epidemic Response Fund.
The massive $25 billion Opioid Epidemic Response Fund would provide $5 billion in federal funding each year over five years to focus on "key activities" at agencies like the Substance Abuse and Mental Health Services Administration (SAMHSA), the Centers for Disease Control and Prevention, the National Institutes of Health, and Health Resources and Services Administration.
The legislation – called the Respond NOW Act – was introduced last week by Republican Fitzpatrick and Democratic New Hampshire Congresswoman Annie Kuster.
"There is no issue more pressing in our neighborhoods than the devastation caused by the growing epidemic of opioid and drug abuse," said Fitzpatrick.
While Fitzpatrick commended efforts made on the local and state level, he said that Congress has a clear role to support and expand the fight against opioid addiction.
This legislation is the next step in our fight to end the opioid epidemic and I want to thank Congresswoman Kuster for standing with me as we fight to secure additional resources for those on the front lines of this battle," the congressman said.
A previous version of the bill introduced in the last congress proposed amending the Controlled Substances Act to allow practitioners to dispense narcotic drugs for maintenance treatment or detoxification treatment to an increased number of patients under specified conditions and amend the Social Security Act to include methadone treatment in Medicare coverage.
The bill came out of the Bipartisan Opioid Task Force.