By Steve Bittenbender | The Center Square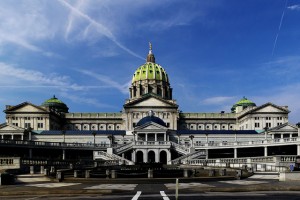 With the 2020 presidential election now less than 18 months away, Pennsylvania Democrats in the General Assembly came out Tuesday with a slew of voting reform proposals they say will encourage a larger turnout to the polls.
Flanked by representatives from such groups as the Pennsylvania Budget and Policy Center, Pennsylvanians for Fair Elections and the Brennan Center for Justice, lawmakers touted plans to enact automatic registration, expand early voting opportunities and introduce same-day voter registration.
"Our democracy depends on its voters, which is why we are fighting to ensure every eligible person has a chance to voice their opinion at the ballot box," said state Sen. Vincent Hughes, a Philadelphia Democrat who backs automatic voter registration whenever someone signs up for a public benefit or service.
The Keystone State, with its 20 electoral votes, will very likely play a major role in deciding next year's presidential election. According to 270towin.com, the state has voted for winning candidate in eight of the past 10 elections. In 2016, Pennsylvanians backed Donald Trump, marking the first time the state backed a Republican candidate in 28 years.
Trump's margin of victory was less than 70,000 votes in a state with 8.6 million registered voters.
State Rep. Sara Innamorato said that about a quarter of the state's voting-age residents eligible to vote are not registered. The Pittsburgh Democrat has filed a companion bill to Hughes' legislation that would enable residents to become eligible whenever they conduct a transaction with more than 10 different state agencies, including the Department of Transportation, the Department of Aging and the Game Commission.
Her bill also would accept electronic signatures for voter registration.
"It's our duty as lawmakers to create a Pennsylvania that assumes participation, invites participation and enshrines participation by passing laws that protect and expand upon our right to a voice and a vote," she said during Tuesday's news conference.
According to a Brennan Center report, 15 states and Washington, D.C. have passed automatic voter registration legislation. These states have seen their voter rolls increase by between 9 and 94 percent.
State Rep. Ryan Bizzarro, an Erie Democrat, touted his same-day voter registration bill on Tuesday. His bill would allow people to register at their polling place the day of an election. However, that individual's vote would not be officially counted for up to 30 days while state officials verify their eligibility.
Currently, Pennsylvania's polls are open from 7 a.m. to 8 p.m. However, state Sen. Wayne Fontana and state Rep. Jennifer O'Mara have proposed increasing access to the polls before Election Day. The bill by Fontana, an Allegheny Democrat, would require designated sites open 15 days before primary or general elections. In her bill, O'Mara, a Springfield Democrat, calls for polls to open 30 days prior.
State Sen. Judy Schwank, a Berks Democrat, has offered a bill that would allow Pennsylvania to join 27 other states and the District of Columbia in offering "no-excuse" absentee voting.
O'Mara said when she campaigned, she met a young disabled voter whose polling location was not accessible according to the Americans with Disabilities Act. That spurred her, she said, to find ways to help ensure people can exercise their rights.
"Introducing an early voting bill is a priority for me because voting should be easier for everyone," she said.