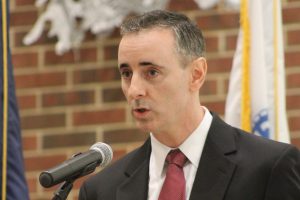 Congressman Brian Fitzpatrick was one of only four Republicans Tuesday evening to vote for a U.S. House of Representatives' resolution to condemn racist tweets sent by the president on Sunday.
Fitzpatrick along with Republican representatives Susan Brooks, Will Hurd, and Fred Upton voted for the resolution that was support by former Republican and newly independent conservative Congressman Justin Amash and 240 Democrats.
The resolution floated by Democrats cited thoughts by the founding fathers, President Ronald Reagan, and said "President Donald Trump's racist comments have legitimized fear and hatred of new Americans and people of color." Prior to a vote, the resolution and its contents were much debated on the floor.
"Congressman Fitzpatrick is a proponent of the Golden Rule. Comments that are counterintuitive to civil discourse should be pushed back upon," his Press Secretary Christopher Auray told NewtownPANow.com.
The resolution was in response to a Twitter thread where Trump was upset that progressive Democratic congresswoman had differing views on America's future. He tweeted that the four congresswomen should "go back and help fix the totally broken and crime infested places from which they came." Based on his post, he was referencing the countries of their heritage and not their congressional districts.
The comments were widely seen, and later in part confirmed by the president, to be directed at congresswomen Alexandria Ocasio-Cortez, Ilhan Omar, Rashida Tlaib, and Ayanna Pressley. The four lawmakers – all of whom are U.S. citizens and three of which were born in the country – are known for their progressive views, controversial statements, and criticism of Trump and his administration.
After rebuke from commentators, Democrats, and even some prominent Republicans, Trump doubled down on his statements and said the congresswomen "in my opinion hate our country." He also tweeted later that he was not racist.
"IF YOU ARE NOT HAPPY HERE, YOU CAN LEAVE," the president later tweeted in all caps.
This is not the first time the president's comments have left him in hot water. He previously was criticized for comments on the day he announced his election campaign, he also drew fire for stating an American-born judge was unable to do his job because of his heritage as a "Mexican," and comments he has made on the Central Park Five case.
Fitzpatrick was on the Dom Giordano Show on conservative talk station 1210 WPHT Tuesday morning and weighed in on the topic.
"I agree with a lot of what the president does from a policy standpoint, from tax reform, immigration, when it comes to border security. What I disagree with the president on is his tone. I am a Ronald Reagan Republican and that's the area I grew up in," Fitzpatrick said.
He also told the radio show host that he found past controversial comments by Omar "reprehensible."
The vote from Fitzpatrick, a moderate Republican who did not vote for Trump in 2016, is stark as he has very rarely voiced criticism of prominent of Trump, who shook up the Republicans and their views when he ran for election and won in 2016.