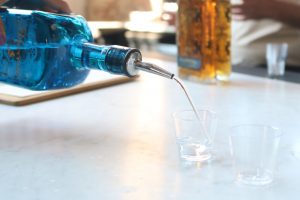 While you may not think it today, whiskey and distilled spirits played a key role in forming the nation we live in today.
Distilleries in Bucks County and around the Philadelphia region are taking part in the new Whiskey Rebellion Trail, a multi-region project that explores the history of American whiskey and the country.
The trail includes more than 75 craft distilleries and historic sites in Pennsylvania, Maryland, and Washington D.C. In Bucks County, it includes 1675 Spirits in Bensalem, Dad's Hat in Bristol Borough, Hewn Spirits in Peddler's Village and Pipersville, Triple Sun Spirits in Newtown Borough, and Washington Crossing Historic Park in Upper Makefield.
Visitors on the Whiskey Rebellion Trail can follow curated itineraries for the Pittsburgh, Baltimore, Washington, DC and Philadelphia regions and purchase passes for regions, including one specifically for Bucks County. The price for passes range from no cost to $165. In addition, visitors will be able to track their progress on their mobile device.
"The Mid-Atlantic has been a hotbed of alcohol ingenuity from its start–as the birthplace of Rye Whiskey and home of the 1790s Whiskey Rebellion. We've charted a spirited journey to give the spirits curious a taste of the craft producers and cultural institutions that are putting this region on the map once again," said Meredith Meyer Grelli, founder and chair of the Whiskey Rebellion Trail and co-owner of Pittsburgh-based craft distillery Wigle Whiskey.
Grelli explained the history of the 1794 Whiskey Rebellion that started when Alexander Hamilton pushed for a whiskey tax to help pay down a young America's debt. The tax was so unliked that it led to an uprising in Western Pennsylvania that included violence and tactics to frighten federal officials and tax collectors. As the uprising progressed, 13,000 militiamen led by George Washington came into the region to suppress the protest over the tax. The federal militia and disputes among protestors led to the insurrection ending. In the end, several people were charged with treason and were pardoned by Washington, who was the president. The Whiskey Rebellion has been cited as being a key turning point for the young nation.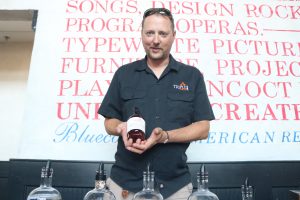 'This is a really important part of our history," Grelli said.
Earlier this week, The Whiskey Rebellion Trail and tourism agency Visit Bucks County hosted local media at a preview event that included a tasting from 1675 Spirits, Dad's Hat, Triple Sun Spirits, and Philadelphia Distilling.
Grelli said the Whiskey Rebellion Trail has become a reality three years after it was first dreamed up. With support from tourism agencies, the plans for the trail began to take root about a year ago.
"This trail celebrates the craft spirits community," she said.
Ian Monagle and Randy Taylor, the founders of Bensalem's 1675 Spirits; Kristofer Kwant, founder of Newtown's Triple Sun Spirits; Herman Mihalich, the co-founder of Dad's Hat in Bristol; and Dani Smith, house ambassador at Philadelphia Distilling, showed off their craft spirits and touted ones that will be featured on the Whiskey Rebellion Trail.
Mihalich said for Dad's Hat, which is distributed in 22 states and 15 countries, the history and message of the trail was one of the reasons the distillery became involved.
"For whiskey enthusiasts, our newly formed Whiskey Rebellion Trail is an opportunity to explore our spirits scene tumultuous past and its exciting present. And for our partners in the trail, it's an opportunity to see what economic benefits come from this untapped tourism product," said Jeff Guaracino, president and CEO of Visit Philadelphia.