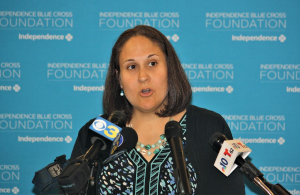 A new public-private collaboration aimed at saving lives will be supported by $650,000 in grant funding to Bucks County.
The funds are aimed at improving care for those who survive an opioid overdose in Bucks County by allowing for additional resources and adding new certified recovery specialists in all local hospitals. It will also provide family support for patients and an educational component for hospital staff, officials from the Independence Blue Cross Foundation, Pennsylvania Department of Drug, and Alcohol Programs and Bucks County Drug and Alcohol Commission Inc. announced at a press conference in Doylestown Monday morning.
The program uses the best practices focused on increasing the success of a "warm handoff" where a patient is met with by a certified recovery specialist who will talk about paths to recovery and look at aiding in rehabilitation.
The initiative is called B-CARES, which stands for the Bucks County Connect Assess Refer Engage Support Program, and was started in 2017. Around the same time, state officials began focusing their efforts on increasing warm handoffs with a mandate from the governor to get overdose victims into treatment.
The best practices that will be used came from a 2017 study commissioned by the Independence Blue Cross Foundation and carried out by Public Health Management Corporation's Research and Evaluation Group. It found that a warm handoff practices being used in the county as part of B-CARES were effective but noted there was still room to improve. Additionally, it noted that hospitals with co-located treatment agencies like Gaudenzia Lower Bucks at Lower Bucks Hospital in Bristol Township and the Penn Foundation at Grand View Hospital in West Rockhill had higher success rates. It also showed that expanded naloxone access was important.
"Over the past year thousands of lives have been saved through warm hand-off programs," said Pennsylvania Department of Drug and Alcohol Programs Secretary Jennifer Smith. "We know this is a key component in strengthening the drug and alcohol landscape throughout Pennsylvania and the Administration is committed to helping counties with its implementation. Additionally, the common denominator for many individuals seeking treatment are CRSs. They are an invaluable asset to our field and we want to support their work whenever and however possible."
The Independence Blue Cross Foundation pledged to fund a second study to take a new look at the program and track patient outcomes. The study will start in September and be released in 2020.
"This study, and the one that will follow, are important benchmarks for measuring the success of what is one of the most critical pieces of the recovery process — getting someone into substance use treatment as quickly as possible," said Lorina Marshall-Blake, president of the Independence Blue Cross Foundation. "We're excited that this research was a valuable tool in providing additional resources for Bucks County, and for broader discussions across the state focused on combating the growing opioid epidemic."
Republican Congressman Brian Fitzpatrick thanked Smith for supporting Bucks County and the staff at Bucks County Drug and Alcohol Commission for their work. The congressman said the program and local efforts will "have a direct impact on saving lives."
"There are a lot of people looking at us to get this done," he said. "Lives are on the line."
Diane Rosati, director of the Bucks County Drug and Alcohol Commission, said overdose fatalities are decreasing in Bucks County as chances for recovery are increasing.
"We are here for every Bucks County resident to provide support and access to services," she said.
Centers for Disease Control and Prevention data showed that Pennsylvania had one of the highest increases in opioid overdose emergency department visits from 2016 to 2017.
Over the past year, there have been 753 reported opioid overdoses in the county. The majority are men in their 20s and 30s and take place in the county's population centers, according to statistics from the Bucks County District Attorney's Office.
Ashley, a Bucks County woman in recovery, told the crowd she survived an overdose thanks to naloxone said it was a "miracle" how far the county has come in dealing with the opioid epidemic. She said the warm handoff helped her get on the path to recovery.
The $650,000 came through a $55.9 million federal Substance Abuse and Mental Health Services Administration that was awarded to the state.