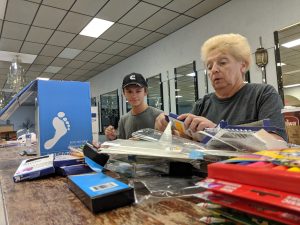 The annual United Way of Bucks County drive to collect school supplies for area kids is prepared to help more children than ever before.
Over the past few weeks, the United Way of Bucks County's "Stuff the Bus" program has gathered school supplies from residents, community groups, churches, and businesses. Whether through donations of actual supplies or monetary contributions, the group will work to pack more than 3,500 bags with supplies like paper, pencils, pens, rules, other everyday items used in classrooms across the region.
Danielle Bush, who coordinates the countywide Stuff the Bus program, said volunteers are needed to sort the supplies and fill backpacks this week and next at Westaby Hall at the Fairless Hills Fire Company in Falls Township. Those interested in volunteering can sign up online.
Families who need supplies can still contact the United Way of Bucks County via their website to request help. Bush said proof of need will be required, adding families whose kids receive free lunch and have Access cards qualify for the program.
The number of Bucks County families who need some help has grown in the nine years since the program launched. In the years since, the cost of school supplies has only increased and word of the program has spread.
Bush said the United Way of Bucks County filled about 3,300 backpacks for area kids last year.