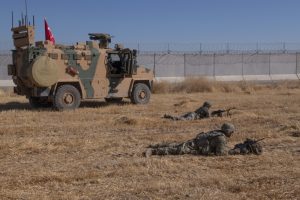 The ongoing invasion of Syria by Turkey has been condemned by the majority of the U.S. House of Representatives, including local Republican Congressman Brian Fitzpatrick.
Fitzpatrick co-sponsored the resolution to formally opposed Republican President Donald Trump's sudden decision that opened the door for Turkey and affiliated militias to begin fighting Kurdish forces in northeast Syria. Both Turkey and the Kurds, who are concentrated in Syria and Iraq, are American allies. There has been bipartisan opposition to condemn and question Trump's move that allowed the Turkish forces to move into the region, causing chaos and death. The condemnation from elected officials additionally demands Turkish President Recep Tayyip Erdogan end military action, which also involves fight with Syrian forces.
The final vote on the resolution was 354-60.
"Giving the Turkish government license to attack our Kurdish friends sends the wrong message to our allies across the globe." Fitzpatrick said in a statement. "Abandoning our allies who have fought alongside us is a terrible mistake that will cost our allies their lives and undermines United States credibility on the international stage."
Fitzpatrick, who serves on the House Foreign Affairs Committee Subcommittee on the Middle East, North Africa, and International Terrorism, has also supported legislation designed to protect the Kurdish people.
Experts have raised concern that ISIS will rise again as the Turkish offensive brings more instability to the region. Many experts in the region have also sounded the alarm on America turning its back on the Kurdish fighters and people. American troops and policy in the northern part of Syria brought some stability and kept the Turkish military on their side of the border.
"All of the effort that has gone into keeping ISIS in check has now been put in jeopardy," Fitzpatrick told The Intelligencer newspaper earlier this week. He also stated he felt the Kurdish forces were with America and had helped save lives.
"It's not our problem," Trump told reporters Wednesday, later stating that the Kurds were "no angels."
"So it's a very semi-complicated – not too complicated, if you're smart – but it's a semi-complicated problem. And I think it's a problem that we have very nicely under control," the president later stated when asked about the situation during a White House press conference.