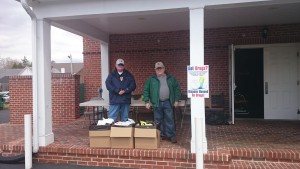 Bucks Countians will have the chance to turn over their unused, unneeded, or expired prescription medications this Saturday.
County and local law enforcement will team with up several groups to take part in the National Prescription Drug Take-Back Day from 10 a.m. to 2 p.m. at numerous locations in the lower end of the county.
"Throughout the year we encourage residents to dispose of unused medications in one of our 44 permanent boxes located throughout the county," said Diane Rosati, executive director of the Bucks County Drug & Alcohol Commission. "This National Prescription Drug Takeback Day, to be held at 52 sites, highlights the importance of safe medication disposal. Please help reduce access to unused medications."
The upcoming National Prescription Drug Take-Back Day event is the 20th held in the county since 2010. Since the start, more than 127,000 pounds of medication have been collected in the county, a record for the state.
Residents can go to any of the locations in the county – no questions asked – and drop off their medications to local police department sites where an officer and volunteers will be available.
Newtown Fire Association, 14 Liberty Street, Newtown Borough
Newtown Township Municipal Building, 100 Municipal Drive, Newtown
Upper Makefield Police Department, 1076 Eagle Road, Upper Makefield
Click here for more information about what medications will be accepted and additional resources.
The spring collection event gathered 10,085 pounds of unused, unneeded, or expired prescription medications.
"The citizens of Bucks County lead the state in medication take-back," said Bucks County District Attorney Matthew D. Weintraub. "Because of their efforts all year round, we are seeing a genuine reduction in overdose deaths.
"Remember, any medication that you deposit in the take-back box is medication that can't be diverted to hurt or kill anyone ever again," Weintraub said. "Let's keep this trend going."
If you cannot make the Saturday event, there are more than 40 drop-off locations in the county that are permanent.