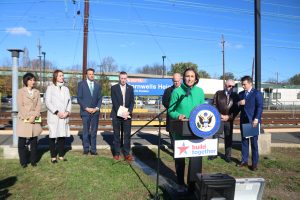 The message was clear Friday morning – a federal infrastructure plan would boost the nation and the region's economic fortunes.
Congressman Brian Fitzpatrick, a Republican from Middletown; Congressman Brendan Boyle, a Democrat from Philadelphia; SEPTA General Manager Jeffrey Knueppel; and others stood along the train tracks at the Cornwells Heights SEPTA station in Bensalem on a windy Friday morning to talk about infrastructure investment.
The event was hosted by Build Together, a new nonpartisan group aimed at supporting federal infrastructure investments. It was the first of 50 planned stops on the group's nationwide tour.
"There is bipartisan agreement that our infrastructure is critical to our economy," said Boyle. "Far too many steelworkers and other building trades in my district face layoffs due to low demand from the transportation and infrastructure sector."
"Investing in our roads, bridges, and energy grid is an investment in our nation, our economy and our families," said Fitzpatrick.
While speaking, Fitzpatrick highlighted the importance of infrastructure improvements.
"There are very few issues you can say this about – that they impact the environment, economy, national security, public safety, and that are bipartisan. Infrastructure checks all five of those boxes," he said.
Fitzpatrick noted that infrastructure isn't always visible, but includes cyber-infrastructure, underground water piping, and the electrical grid.
"We all know that we need it. The question is how do we fund it. That's what we need a bipartisan solution on," the congressman said.
One of the ways Fitzpatrick suggested funding federal infrastructure projects was his "Market Choice Act," a so-called "carbon tax" bill that he described as "market based."
"There is nothing partisan about safe roads, working pipes, and reliable transit," said Ryan Costello, a former Republican congressman from Chester County and supporter of infrastructure improvements. "Pennsylvanians understand this. They know strengthening our infrastructure means strengthening families, unions, and businesses. They want results without partisan bickering."
Cathy Farrell, chair of the American Society of Civil Engineers 2018 Report Card for Pennsylvania's Infrastructure, said infrastructure improvement means updates in the way traffic flows and how money is made. She said time spent waiting due to a infrastructure-inducted traffic jams and power outages equals money lost for companies and families.
"As civil engineers we urge an all-hands-on deck approach that will involve state, local and federal governments to take action, to increase investment in infrastructure and to make it priority number one," she said.
Knueppel, who leads SEPTA, said the massive legacy multi-modal transit system has been tackling a nearly $5 billion infrastructure backlog through funding from Pennsylvania's Act 89 but could use more help. He added that public transit is important for the region's economy and the quality of life for locals.
Standing in front of the Amtrak Northeast Corridor, which doubles as SEPTA's Trenton Regional Rail Line, Knueppel said every dollar counts when it comes to investing in infrastructure. He noted that the Trenton line is the third busiest in the system and an important link for many.
"An infrastructure bill is a good jobs bill, plain and simple. This is not just good for union members. It's good for every single American. Our infrastructure needs provide an opportunity to lift up the middle class that we cannot afford to waste," said Patrick Eiding, president of the Philadelphia Council AFL-CIO.
When asked after the press conference about previous effects to pass a federal infrastructure spending bill, Fitzpatrick said he considered it a failure of the last congress.
Fitzpatrick stated he is encouraged a bipartisan funding bill will move forward and added he was "hopeful" it would happen.