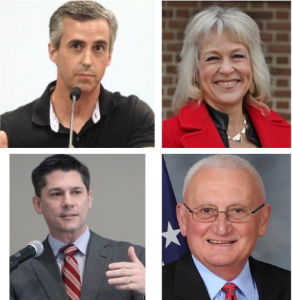 One of the most watched elections this Tuesday will be for the Bucks County Commissioners.
Incumbent Republican Robert Loughery, of Bedminster, and running mate State Rep. Gene DiGirolamo, of Bensalem, are facing off against Incumbent Democrat Diane Ellis-Marseglia, of Middletown, and Falls Township Board of Supervisors Chairman Bob Harvie for the three seats – two majority and one minority – that have four-year terms.
Democrats are making their push to wrestle the majority away from Republicans. The GOP has held the majority for the Commissioners going back about 30 years.
The campaign has featured the candidates of both parties knocking doors across the 622-square-mile county and hitting big events throughout the year.
Longtime Commissioner Charley Martin, a Republican from Upper Southampton, decided not to run again.
The Commissioners oversee a nearly $433 million budget that touches all parts of the county and covers housing and human services, health services, emergency services, corrections, facilities, parks and other public-facing services.
The four candidates who are vying to take on the challenges of the future said they are optimistic leading into Tuesday's election.
If she is re-elected and in the majority, Ellis-Marseglia said in the voter's guide that she would support assessing the county's operations and begin making changes where they are needed.
"My priority is to make sure all of these systems are functioning in a high quality, responsive, and effective manner. It is not enough to have these safety systems, in place, or to have their weaknesses kept hidden. I will insist on a goal of flawlessness as taxpayers deserve nothing less," she said.
Harvie, who is a history teacher at Bucks County Technical High School in Bristol Township, said he wants to help make county government work better, especially with local governments and residents.
"I believe we have the pieces in place to better address our problems, but there has not been enough energy devoted to pulling these pieces together so we are utilizing our resources in the best way possible. We need improved communication and advocacy from our county government," he said.
Loughery, who has worked as a real estate investor and developer, said if he secures a third term, he would aim to maintain the county's financial position, including 100 percent funding of the pension fund.
"Year in and year out, Bucks County has been able to provide quality services to our residents because of our strong financial position," he said, adding that the Commissioners have also helped preserve land, hire additional county detectives, fund parks, and support workforce development.
DiGirolamo, who worked at his family farm for 25 years and as a state representative for 25 years, said that if elected he plans to help the county maintain its "path of fiscal responsibility" while preserving the environment and protecting vulnerable citizens.
"I really care about what goes on here in Bucks County. I've just very, very excited to have the opportunity, if I win, to be a Bucks County Commissioner," he said.
All four candidates said the opioid epidemic was among the most important priorities the Commissioners will handle and also an issue many voters are talking about. Human services, infrastructure, and national politics were among the other important issues candidates heard about from voters.
Loughery said "experience counts and matter"
"These are not trivial matters before the county right now. These are big challenges the county has to face," he said, adding he believes himself and DiGirolamo are the best candidates to handle the issues.
DiGirolamo, whose uncle is Bensalem's longtime mayor, said he felt his career serving in the Pennsylvania House of Representatives has prepared him to serve at the county level.
"I've got a really great work ethic," he said.
Harvie said he plans to bring his experience in local government to the table if elected.
"The people of Bucks County pay taxes to county government, are owed services by the county government, but they don't know what the county government does," he said. "It kind of an invisible layer of government. I want to be more transparent."
Ellis-Marseglia, a social worker, former Middletown supervisor and former Neshaminy School Board member, said she wants to strive to have the county better deal with child abuse and neglect. She also wants to expand programs to help families and deal with mental health, an issue that touches the entire area.
In the final weeks of the race, Harvie was targeted in Republican campaign ads for being on the Falls Township Board of Supervisors as Waste Management's landfill expanded. The ads made it seem that Harvie – who was called "Hazardous Harvie" – was responsible for the entire Waste Management landfill, which was first approved when he was in high school and has since received bipartisan support.
"They way politics works is they give a cute little tagline and don't give you any of the facts," he said.
Instead of focusing on the negative, Harvie said he has run on a record he is proud of, which included denying the proposed Elcon hazardous waste treatment facility.
"It's just disgusting that people would become so desperate to make up a story," Ellis-Marseglia said of the ads. "It mirrors what is happening in Washington."
Ellis-Marseglia stated she did reach out to Loughery about the ad but did not receive a response.
Loughery told LevittownNow.com he felt the landfill expansion took property that could have been better used for job creation opportunities.
"I think it's a legitimate issue," DiGirolamo said.
When questioned, both the Republicans stated they would oppose any proposed expansion of the Waste Management landfill. Previously, Loughery did not publicly oppose the previous expansion.
Harvie noted the irony that the county receives funds from the landfill being located in its borders. Falls Township also receives a significant amount of money for hosting the facility.
Harvie and Ellis-Marseglia stated they felt they ran a hard-fought campaign.
"We've run a really good race and had a lot of goals to accomplish. I know we hit our goals," Harvie said, adding he has met plenty of energized voters.
"I'm always nervous the night be the election. I make a big plan on how to get a good night's sleep and then don't sleep at all," Ellis-Marseglia said with a laugh. "I'm also very superstitious about it."
The Republicans feel similar about their efforts.
"I'll tell you that I'm feeling pretty good. I'm kind of excited to get to tomorrow," DiGirolamo said.
"I feel optimistic and campaigned hard. I think we've done, as far as the campaign is concerned, everything that we can do," Loughery said.
DiGirolamo stated that Tuesday will be a good example of "democracy at work."