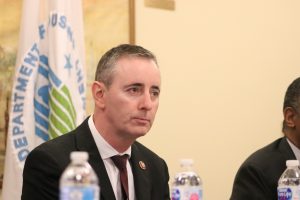 After the reading the closed-door interview transcripts and several days on public impeachment hearings, Republican Congressman Brian Fitzpatrick said Friday that he has not seen enough evidence to convince him to vote to impeach embattled President Donald Trump.
The congressman from Middletown told NewtownPANow.com that he found the president's conduct surrounding U.S. military to Ukraine aid "troubling" but felt Trump's actions should be investigated by law enforcement. He noted that President Richard Nixon and President Bill Clinton's actions that led to articles of impeachment during their presidencies both were investigated by law enforcement beforehand.
"There's no reason we can't refer this to law enforcement," he said.
Former FBI special agent Fitzpatrick said he had not made a referral to federal authorities but has requested U.S. House Intelligence Committee Chairman Adam Schiff, a Democrat from California, to make a referral. As of Friday, Schiff had not made a referral at Fitzpatrick's request.
The second-term congressman stated he feels the impeachment process is far too political and believes law enforcement could provide a better overview of the case.
Fitzpatrick said he has been following all the testimony from witnesses, but he did not make every U.S. House Foreign Affairs Committee hearing where witnesses spoke due to hearings on other important topics, including health care, the 737 Max, and opioid legislation.
Fitzpatrick said he wasn't going to defend the president on his conduct.
Trump is facing an impeachment inquiry in congress after claims the president pressured the president of Ukraine to have his government investigate political rival former Vice President Joe Biden and his son. The allegations are that Trump and top administration officials withheld nearly $400 million of military aid to Ukraine for a period of time to pressure the European nation to announce an investigation into the Bidens.
Fitzpatrick has long framed himself as a moderate Republican in the era of Trump and won two terms in the First Congressional District. He has worked with Democratic lawmakers on legislation and previously admitted he wrote in Mike Pence's name instead of casting a vote for Trump in 2016.
Texas Republican Congressman Will Hurd, who Fitzpatrick works with and is also framed as a moderate, said Thursday that he had not heard enough evidence to prove the president "committed bribery or extortion," according to Axios.
The congressman said impeachment is not something he hears about too often from constituents around the district. He said health care is an issue he hears about more often while in the district.
In previous statements, Fitzpatrick said he would make a final determination on impeachment once all the evidence was presented.