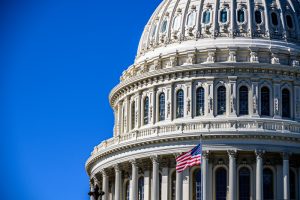 Congressman Brian Fitzpatrick took part in a historic vote Wednesday evening and voted against two articles of impeachment against President Donald Trump, marking only the third time that a sitting president has been impeached.
Fitzpatrick's two "nay" votes were against the articles of impeachment for abuse of power and obstruction of congress fell in line with the other Republicans who cast their ballots.
Fitzpatrick said in a statement released Tuesday that he would "not support" an impeachment vote against the president. He further stated the impeachment investigation into Trump followed an "entirely partisan path with an artificial timeline and a predetermined outcome."
"Congressman Fitzpatrick has ignored overwhelming evidence that President Trump abused the power of his office and undermined the rule of law. Instead of upholding his oath of office, he voted to give any President, regardless of party, license to invite foreign governments to interfere in our elections. That not only recklessly endangers our democracy, it shows Congressman Fitzpatrick will spinelessly cave to President Trump regardless of the issue, not serve as the independent voice Pennsylvanians deserve," Democratic Congressional Campaign Committee spokesperson Courtney Rice said.
The congressman said earlier in the process he had not yet seen enough evidence to impeach the president, but called Trump's actions involving Ukraine "troubling."
On Tuesday, Fitzpatrick said the impeachment process has been "wholly divisive."
While other Democratic and Republican congressmen spoke on the floor of the U.S. House of Representatives before the Wednesday votes, Fitzpatrick passed on the opportunity.
Outside Fitzpatrick's Middletown district office, a pro-impeachment rally was held Tuesday evening and drew more than 600 people. A smaller pro-Trump rally was held a few yards away.
Now that Trump has been impeached, the case will head to the U.S. Senate for a trial.