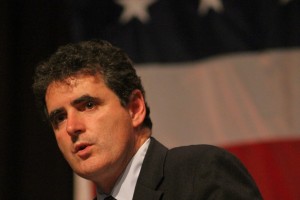 Former Congressman Mike Fitzpatrick, a pillar of the Bucks County community, has passed away. He was 56.
Over the past several years, Fitzpatrick had battled cancer. In recent months, his health began to decline.
Current Congressman Brian Fitzpatrick is Mike Fitzpatrick's younger brother.
Fitzpatrick, a Republican who retired from congress at the end of his term in January 2017, had recently been working as a partner at Philadelphia law firm Obermayer Rebmann Maxwell and Hippel LLP.
Levittown-born and -raised Mike Fitzpatrick leaves behind his wife, Kathy, and six children. He was a resident of Middletown's Levittown section.
Fitzpatrick, who was raised as one of eight siblings, was proud of his education at Bishop Egan Catholic High School (now Conwell-Egan Catholic High School) in Bristol Township. During high school, he gained the rank of Eagle Scout.
The saxophone playing young man earned his law degree and ended up working for a law firm in the county. He even snuck in a short stint as a Mummer.
In the mid-1990s, Fitzpatrick was appointed a Bucks County Commissioner, a role he held until his first run for congress in 2004. His time on the governing body came as Bucks County created a taxpayer-funded program that ended up preserving thousands of acres of open space and farmland. In the end, Fitzpatrick led an effort that convinced voters to approve a referendum to support the plan.
Fitzpatrick was a principled conservative who was not afraid to work with Democrats. He ended up using his bipartisan spirit as a cornerstone of his campaigns for congress.
The congressman served in Washington D.C. from 2005 to 2007 and 2011 to 2017. He ended up losing to Bristol Township Democrat Patrick Murphy after an election in 2006.
After losing to Murphy, Fitzpatrick tried his hand running for state representative but ended his campaign after learning he had stage II colorectal cancer, which ended up going into remission after treatment.
In a 2017 interview with this news organization, Fitzpatrick said his cancer diagnosis, which came when he was in his 40s, changed his outlook on life. He called life after remission his "second chance."
One of Fitzpatrick's proudest achievements was the creation of Washington Crossing National Cemetery in Upper Makefield. Fitzpatrick pushed hard in Congress to turn a 200-acre tract of farmland off Dolington and Washington Crossing roads into the veterans cemetery.
In interviews, he said he was proud of his record as being bipartisan and also being among the least wealthy members of congress.
Fitzpatrick voted against the Affordable Care Act, also known as Obamacare, and supported an effort to overturn the law.
"Health care doesn't work the way it should," Fitzpatrick said in the final days of his last term. He added that a complete overhaul of the health care system was needed and doctors and patients needed to get back in control of their care.
During his tenure, Fitzpatrick also focused attention on human trafficking, legislation to help workers displaced by foreign trade agreements, and closing the skilled trade gap in the local economy.
Fitzpatrick, who did not run for reelection in 2016 because he believed in set term limits, used his first-hand experience with the medical system to advocate for people impacted by dangerous medical devices, some that even led to death for patients.
While Fitzpatrick was more moderate than some of his conservative counterparts, he was a strong pro-life Catholic, even when Republicans advised him it may hurt his campaign efforts in moderate Bucks County.
Despite working in Washington D.C., Fitzpatrick made it clear he wanted to spend as much time as he could in Bucks County, serving the residents and hearing from them. He would often come back from the nation's capitol to attend Eagle Scout ceremonies, meetings with constituents, or attending events for local nonprofits. It was not uncommon for him to vote in the House of Representatives during the day and be in Bucks County by the evening.
"Some legislators look back at how many bills they passed," he said. "I measure my time by how many people I helped."
Although Fitzpatrick looked more tired every passing time he made a public appearance, he was always positive and almost never made the conversation about his battle with cancer.
"I'm doing fine," was a common response when he was asked by well-wishers.