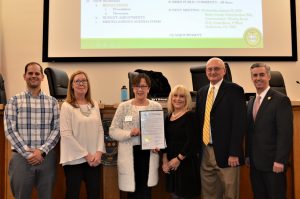 Human trafficking may sometimes seem like a far away issue, but it happens in Bucks County, according to statements over the years by law enforcement and officials from local organizations.
Last week, the 6-year-old Bucks Coalition Against Trafficking, a project of nonprofit Network of Victim Assistance (NOVA), was recognized by the Bucks County Commissioners for their work to aid victims and promote awareness. The recognition comes during Human Trafficking Awareness Month.
Bucks County Commissioner Gene DiGirolamo called human trafficking a "borderless crime against individuals that violates the most basic rights." He cited a statistic that 24.9 million people – largely girls and women – around the globe are victims of the practice that often involves forced labor or sex work.
"Human trafficking happens in Bucks County. Some of you might have seen the high profile local trafficking issues that come up, but it happens all the time," said NOVA Executive Director Penny Ettinger. "I would just ask today that one, you recognize it's a problem here, and two, what do you do in your daily lives that may be contributing to human trafficking? What restaurants do you go to? Who is your lawn service or housekeeper – what are their roots?"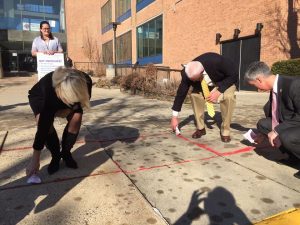 She encouraged people to keep aware for the signs of human trafficking. (See the signs here)
The Commissioners later went outside the Bucks County Administration Building in Doylestown Borough to spread red sand between the cracks in the concrete to symbolically remember those who may have fallen through the cracks of society.