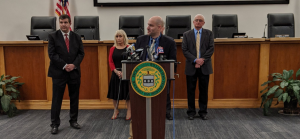 As of Wednesday afternoon, Bucks County has not seen any new cases of COVID-19 within its borders.
The county remained with just two COVID-19 cases. The two adults live together and are in isolation. So far, the two have only minor symptoms from COVID-19, also known as the novel coronavirus, officials said.
The two who are sick caught the virus at an out-of-state gathering, officials said, adding "they're doing fine" and are expected to recover.
"There is no community spread that we know of here as of today," Dr. David Damsker, director of the Bucks County Health Department, said during a Wednesday afternoon press conference in Doylestown Borough.
Damsker said health workers have been contacting people the two infected patients have interacted with. Those who interacted with them have been asked to isolate themselves at home and report any symptoms of illness.
With the highest fatality rates of COVID-19 among the elderly and those with weakened immune systems, the county has closed all visitation to its operated senior facilities, Damsker said.
Officials plan to remain in communication with retirement and long-term care facilities throughout the county.
Bucks County Commissioner Chairperson Diane Ellis-Marseglia said leadership has been in constant contact with health and emergency management officials.
"The county has taken this situation very seriously," said Scott Forster, director of the Bucks County Emergency Management Agency.
Forster said county health, emergency management, and officials from other departments have been meeting with leaders of schools, hospitals, municipal emergency management agencies, and other important partners to prepare for additional cases of COVID-19.
Throughout Wednesday, the Commissioners were on calls and email chains discussing COVID-19 and preparations, Ellis-Marseglia said.
Among the important steps the county is undertaking, is working to make sure accurate information is being disseminated through the county and to the public, including through the media, Forster said.
Bucks County Commissioner Gene DiGirolamo said there has been tremendous communication with the public and among government organizations from local to federal.
Damsker said there have been a number COVID-19 tests used in Bucks County, but aside from the two positive cases, all have been returned negative.
Before a COVID-19 test is administered, Damsker said a key would be to rule out other illnesses first.
"We're focused on testing people that are either really sick in the ICU and they can't figure out what's wrong with them, people that have contacted confirmed cases, and those who recently traveled to places in the world where there are a lot of cases," Damsker said.
COVID-19 tests used in Bucks County are being sent to a state lab in Chester County. Damsker said some private testing companies may be able to process their own tests in the future.
Damsker defended the county's decision to not release the age and hometown of the two COVID-19 patients, which the county previously said is following the state's lead.
"It wouldn't change any public health issue and it wouldn't make anybody unsafe," he said while defending the decision not to release additional information.
The county's chief medical officer said additional information about COVID-19 cases would be released if there is a need.
"If I felt there was any help to the public, we would do so," he said.
Damsker said although the symptoms are similar to the flu, COVID-19 is different and can be deadly for the elderly and those in poor health.
"The vast, vast majority of those who will have the virus will have the mild form," he said.
Advising residents to use common sense, Damsker said Bucks Countians who think they have COVID-19 should look at risk factors, like traveling out of the country.
Damsker said residents who have traveled out of the country or think they have COVID-19 should contact the county department of health or state health department before heading to a medical facility.
County officials said they have supplies and have spoken with medical centers about their stocks of supplies. Damsker advised people to buy what they normally would and not purchase every mask or other supply they see at the store out of panic.
Forster said 9-1-1 dispatchers have been asking additional screening questions when taking calls from people with signs of illness. He said medical responders going out on illness calls have been able to consult with county health officials.
At Doylestown Hospital and St. Mary Medical Center in Middletown, there are temporary additional screening areas prepared if there are large flows of patients to the hospitals, Forster said. He added those set ups are out of an abundance of caution.
Bucks County Commissioner Bob Harvie commended the work of county staff.
About an hour after the Doylestown briefing, state health officials gave their latest update.
The Pennsylvania Department of Health said there are single COVID-19 cases in Delaware, Monroe, Philadelphia, and Wayne counties. Montgomery County has nine cases and an out-of-state resident who has tested positive for COVID-19 is currently in a hospital in the county.
State health officials said they were working with local officials and the federal government as they prepared for more cases.
"While we anticipate that there will be more Pennsylvanians with COVID-19 in the coming days and weeks, it is important for residents to know the commonwealth is prepared and to be prepared themselves," Health Secretary Dr. Rachel Levine said.
County officials released the following preventive steps:
Frequent hand-washing with soap and warm water for at least 20 seconds
Avoiding close contact (within six feet) with people who are sick
Avoiding touching one's eyes, nose and mouth
Staying home when sick
Covering one's coughs or sneezes with a tissue and throwing the tissue in the trash
Cleaning and disinfecting frequently touched objects and surfaces with household cleaning sprays or wipes
Wearing face masks during one's daily routine is not recommended by the CDC as an effective preventive measure against COVID-19 and other respiratory diseases. However, people with symptoms of COVID-19, health workers and people who are taking care of an ill person in close settings are advised to wear masks to help keep the virus from spreading.

The incubation period for a person exposed to COVID-19 – the time between exposure and first appearance of symptoms – is between two and 14 days. Those who have been in contact with a person known to have COVID-19, or those who have traveled recently to areas where there have been outbreaks, are asked to self-quarantine themselves for 14 days from the time of potential exposure.

According to Damsker, county health department continues to contact all travelers returning here from countries where there have been COVID-19 outbreaks, directing them to self-quarantine and helping them monitor for symptoms of the virus.

County health officials are working with healthcare providers and PA DOH to determine on a case-by-case basis whether testing is appropriate. This is done in the interest of not depleting resources by testing every person who has a respiratory illness.

Much remains unknown about COVID-19, including fatality rates. Early indications are that children are at much lower risk of severe illness from COVID-19, and, as with influenza, the elderly and those with immunosuppressive conditions are at higher risk of severe illness.

Current reports of fatality rates are most likely overestimates, Damsker said, given that most of those infected have had either asymptomatic or mild infections. While that is positive news, he added, it makes the virus easier to spread unnoticed by those with minor or no symptoms.

Because there is currently no medication or vaccine for COVID-19, Damsker said, simple preventive steps such as good hygiene, avoiding sick people and staying home from work when sick are the best course of action.

Please continue to refer to trusted, credible sources of accurate and up-to-date information, including:
CDC: https://www.cdc.gov/coronavirus/2019-ncov/index.html
PA DOH: https://www.health.pa.gov/topics/disease/Pages/Coronavirus.aspx