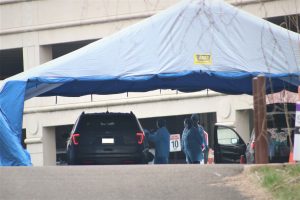 COVID-19 testing is becoming more available. Coming along with the additional access to testing, the number of positive cases spiked on Monday.
Late Monday night, the county reported adding 20 new cases. The total of positive COVID-19 cases jumped from 43 to 63.
The state reported a total of 644 positive cases and six deaths, but none in Bucks County.
Bucks County Health Department Director Dr. David Damsker attributed the jump in cases to the greater availability of testing.
Late last week, cases of community spread in Bucks County became apparent.
Of Monday's cases, "almost all of them were infected prior to the social distancing measures being implemented," the county's chief medial officer said.
Below is a map of municipalities with confirmed cases:
In the lower end of the county, the majority of towns have at least one COVID-19 case. About half of Central Bucks County towns have confirmed cases, and in the upper end, only Perkasie has at least one confirmed case.
Damsker said the impact of social distancing and mitigation efforts has not yet become clear.
"By the end of this week or early next week, the only positive cases should either be in people who have to go out to an essential job, or those that are contacts to confirmed cases in their household," Damsker said.
Of the county's COVID-19 patients, two were hospitalized as of Monday night. One of the patients was in serious condition.
The two patients reported having underlying health issues, Damsker said.
The news of the county's additional cases came hours after Gov. Tom Wolf's stay-at-home order for multiple counties, including Bucks County, took effect.
Following Wolf's announcement, Bucks County officials closed public access to county government buildings, excluding the courts, and ended access to county parks. Despite the closures, county government will continue to operate.
In a video, Bucks County Commissioners' Chairperson Diane Ellis-Marseglia asked residents to follow the governor's orders and reminded people to social distance if they have to go out. She urged only one person per household go out if necessary.
"The most important part of this stay-at-home order is that it is helping us keep the calls to emergency services lower," she said. "That means our police are not having to respond to as many instances, and there are less calls for ambulances and the emergency rooms. That lets us respond to the illness that is out there."
Bob Harvie, the vice chairperson for the Commissioners, urged Bucks Countians to follow the governor's orders.
"This is a virus that feeds off of human interaction," he said. "If we can choke off that fuel to the virus by having everybody stay at home as much as possible, we can hopefully flatten the curve and save as many lives as possible."
Commissioner Gene DiGirolamo asked residents to take Wolf's order "very seriously."
"Please stay calm. We don't need anyone to panic," he said.
Ellis-Marseglia suggested people clean their closets or work on a puzzle during the stay-at-home order.
"We're going to get through this and get through it together," DiGirolamo said.