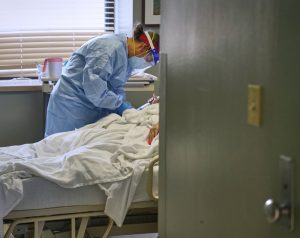 On Tuesday, Bucks County officials reported 22 deaths of patients with COVID-19.
The deaths were largely of people 75 and older. All but four were over 75 and all but four were residents on long-term care facilities in the county, officials said, adding all had underlying health conditions.
The county said the deaths reported on Tuesday took place over several days and even as far back as April. Differing reporting standards have led to some lag in death counts.
The county reported that 66 of 85 licensed long-term care centers have COVID-19 cases.
"We're going through a really bad phase right now in our nursing homes," said Dr. David Damsker, director of the health department. "It's affecting a lot of people, and it's affecting us personally. We are hopefully near the peak of it; we are seeing more staff returning as they recover, and we are seeing more residents recovering in the nursing homes as well."
Out of 85 new COVID-19 cases on Tuesday, 56 were residents or staffers at long-term care facilities. Only four new cases were due to community spread.
"When this wave is over, I don't think we will have large outbreaks again because so many of the staff and residents will have immunity," Damkser said.
The total of COVID-19 cases in the county were 3,505 with 920 recovered.
One hundred ninety-two of those ill with COVID-19 were hospitalized and 24 of them were on ventilators in critical condition.