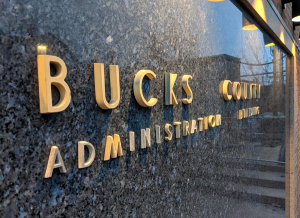 Bucks County Commissioner Chairperson Diane Ellis-Marseglia has given the state's top leaders a deadline of Wednesday.
The deadline is for the county to learn the date when Gov. Tom Wolf and Pennsylvania Health Secretary Rachel Levine plan to move Bucks County from the "red" phase to "yellow," which will allow loosening of restrictions for residents and businesses amid the COVID-19 pandemic that has claimed the lives of more than 300 local residents.
In a press release on Sunday, the county said Commissioners Ellis-Marseglia, Bob Harvie and Gene DiGirolamo, as well as county Health Director Dr. David Damsker, Emergency Services Director Scott Forster, Chief Operating Officer Margaret McKevitt, and Solicitor Joe Khan spoke with staff from the governor's office and Levine on Saturday.
In their statement, county officials said "Levine and Wolf's staff listened to their concerns and understood the commissioners' request for a date certain for when Bucks County residents and businesses can move into the yellow phase of Wolf's reopening plan."
"The citizens of Bucks have been patient and committed to the requirements of a stay-at-home order and use of PPE; now they need to be given the final date so they can prepare for the change, which will involve extensive social distancing requirements," Ellis-Marseglia said.
The county has been getting more firm with their approach to state officials. Previously, they wrote a letter to Wolf asking for "flexibility."
Ellis-Marseglia pointed to the June 2 primary election and the fact that the county is expected to remain under the governor's stay-at-home order until June 4. While voters would be allowed to head to the polls, the commissioner noted that some voters may not feel safe enough to vote.
"Voting in person is as social an activity as it gets," Ellis-Marseglia said.
The long-time commissioner stated that if Bucks County moves to the "yellow" phase no later than May 31, people will feel more confident to vote in person, which will require a mask.
"The overwhelming majority of Bucks County has understood and agreed with the unprecedented steps which needed to be taken to contain this virus," Harvie said. "I'm confident that the governor will allow Bucks to move into the 'yellow' phase before June 4. But even in the yellow phase there will be restrictions we must abide by, and not every business will be allowed to open. Still, it will be a step forward, and a step closer to normalcy."
DiGirolamo added in a statement: "I appreciate the opportunity to discuss the progress we have made to limit community spread here in Bucks County with the Governor's Office and Dr. Levine. We are looking forward to hearing back from the Governor's Office by Wednesday, May 13, on a future date that Bucks County can move to the 'yellow phase' of reopening along with the 37 other counties in the state that have already done so. I am hopeful that date will be as soon as possible."
Wolf's reopening plan sets out that counties show a lessening of new COVID-19 cases and average less than 50 cases per 100,000 persons over the course of 14 days. In Bucks County, that would equate to an average of 23 new cases per day over a two-week span, a level not seen since the early weeks of the pandemic.
The governor's plan also calls for aggressive contact tracing efforts, which Bucks County officials have said are in place.
The majority of new Bucks County COVID-19 cases are coming from known sources and tied to long-term care and communal living facilities. Recently, county officials have said new community spread cases have averaged less than 10 per day.
County officials have previously asked the state to exclude communal-living cases from the reopening calculation.
Levine has said to the media the state will not be removing those numbers because those facilities are connected to the greater community.
During a virtual press conference at the end of last week, Harvie suggested that Philadelphia-area counties may start to question the state's reopening calculation soon. He said the county has "very valuable data" to guide reopening.
While Bucks County has a Democratic commissioner majority, Republican commissioner majorities in Berks, Cumberland, Dauphin, Franklin, Lancaster, Lebanon, and Schuylkill counties have been exploring breaking from the governor's reopening plan, according to PennLive.com.
On Friday morning, 24 mainly rural counties moved from "red" to "yellow." The governor announced 13 western counties could move to "yellow" this coming Friday, including Allegheny, which is home to Pittsburgh.