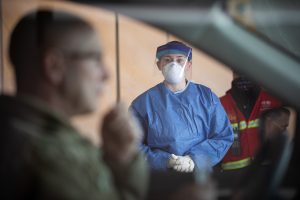 Bucks County officials announced 63 new COVID-19 cases and seven deaths on Wednesday.
The seven Bucks Countians who died were between the ages of 59 and 105. All had underlying health conditions, and six lived in long-term care facilities.
The county said 35 of the new COVID-19 cases were of long-term care residents, three were of staff, 12 got sick from someone living in their house, two were health care workers, one caught the virus at a non-medical workplace, and seven were unable to be reached by contact tracers. Only three of the new cases were the result of community spread.
Bucks County had 180 COVID-19 patients in hospitals as of Wednesday night. Of the 180, 24 were in critical condition on ventilators.
The county has seen a total of 4,133 confirmed COVID-19 cases since early March, with 1,140 patients recovered.