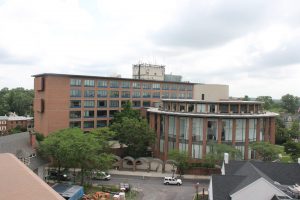 Bucks County will resume some in-person appointments for government services on Monday.
Public servants will be returning to a closer-to-normal schedule with COVID-19-related safety measures in place at offices across the county starting Monday.
Those who need in-person services have to check with the department or row office to schedule an appointment.
Staff will be provided sanitizer, wipes, and gloves. In addition, all staff and visitors will have to wear face masks.
Clear plastic barriers will be installed in offices and are on order for the Justice Center, which has been limited to mainly emergency court duties since mid-March and through the end of the month.
"We will be encouraging everyone and our employees to stay six feet apart," Bucks County Commissioner Chairperson Diane Ellis-Marseglia said.
Leading up to more staff heading into county offices, employees have worked to clean and spray disinfectant, Bucks County Emergency Management Agency Director Scott Forster said.
Commissioner Gene DiGirolamo said all county employees were offered COVID-19 testing before returning to work.
"We put a lot of thought into this and we wanted to be sure they will be safe," DiGirolamo said.
In mid-March, the county moved in-person services by appointment only and then closed their offices to the public as COVID-19 cases grew. While offices were closed, many staff continued to work virtually and some remained working in offices.
Governments and essential businesses are exempt from closures on Gov. Tom Wolf's stay-at-home order. The governor did encourage those organizations to try to limit risk as best they could.
"Governments still have to keep functioning. We still need to do the business that needs to be done … the business of government is continuing and has never stopped," Commissioner Bob Harvie said.
As of last Thursday, Bucks County Health Director Dr. David Damsker said 85 county workers had tested positive for COVID-19. The majority were at the county-owned Neshaminy Manor Nursing Home in Warrington and the Bucks County Correctional Facility in Doylestown Township.
"There's only a handful of (employees) that have COVID who are not from one of those two facilities, and you can imagine why that is the case," he said. "They are operating in the highest-risk category of anyone in the county, and that's been over the last couple of months."