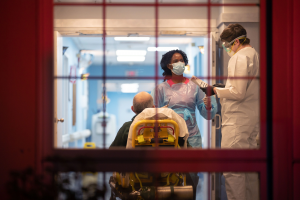 The Pennsylvania Department of Health corrected errors Wednesday in data on COVID-19 cases and deaths at licensed long-term care facilities across the state.
The correction came a day after the state made public much-awaited data that shows the toll COVID-19 has taken on licensed long-term care facilities.
In Bucks County, the majority of COVID-19 deaths and new cases are linked to those facilities.
One notable correction was in the data for Woods Service's Beechwood NeuroRehab in Middletown. The original data showed the facility had 103 COVID-19 cases among residents and 34 of the staff. The updated tally said there were less than five cases among residents and staff.
Cheryl Kauffman, the vice president of communications for Woods Services, said the Beechwood facility for people with brain injuries has only six residents and eight staff, making the numbers originally listed by the state impossible. She noted the facility had had no deaths, adding the state's numbers were "completely wrong."
This news organization contacted several other facilities to see if there were errors in their numbers released by the state. In many cases, staff declined to comment.
At Bucks County-owned Neshaminy Manor, there was one less case than reported in the data and 20 more employees than what was shown, but the number of deaths were accurate, county Health Director Dr. David Damsker said.
The Philadelphia Inquirer reported on several facilities in the region that had wrong numbers. It cited the state Department of Health as stating that some was submitted by facilities were current numbers and not cumulative counts.
"We are working to ensure we have accurate data for all facilities, including those without cases. Those without cases will not be published, but we need to make sure all facilities are reporting the data to us appropriately, as they were ordered to do as of May 17," state Department of Health spokesperson Nate Wardle told LevittownNow.com.
Wardle stated some facilities reported their numbers incorrectly or did not report at all, and the state was working to provide guidance and assistance to those facilities.
The release of the facility-level data on Tuesday came after pressure from the public, some lawmakers, media outlets across the state, and advocates.
Review or search all the updated data below: