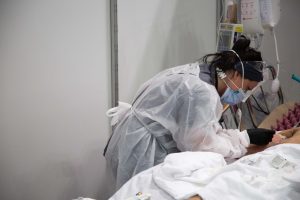 Bucks County officials reported lowest four-day total of new confirmed COVID-19 cases in two months.
On Saturday, the county reported 30 new cases, 22 on Sunday, 24 on Monday, and 27 on Tuesday, bringing the four-day tally to 103, the lowest number since March 23 to 26, the Bucks County Health Department said.
"We're seeing the true payoff of the difficult sacrifices our residents and businesses have made to stop COVID-19," said county Health Department Director Dr. David Damsker. "If we all keep doing the little things like masking, hand sanitizing and social distancing, we will be able to keep the case numbers down. That's how we will get to 'green' in the next several weeks."
Since the pandemic began, Bucks County has reported 4,672 COVID-19 cases, 436 deaths, and 1,473 recoveries.
Over the four days, there were 18 deaths of COVID-19 patients. All had underlying health conditions, and all but four resided in long-term care facilities, officials said, adding one was 32 years old, one was 52, and 16 were over the age of 70.
As of Tuesday night, 105 Bucks Countians were in hospitals with COVID-19 and 23 were on ventilators and in critical condition.