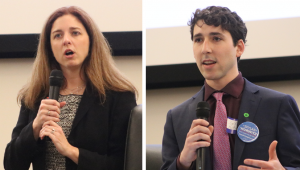 Democratic congressional candidate Christina Finello declared victory in the primary election.
The Ivyland Borough Democrat's campaign claimed the win before the majority of election results had been released by the county as counting was delayed.
"Christina Finello swept to the Democratic nomination for Congress in Pennsylvania's 1st District this evening, calling out Brian Fitzpatrick's 'blind loyalty' to President Donald Trump and saying it's clearly time for a change," the campaign said.
Early results showed Finello with a large lead over Democrat challenger Skylar Hurwitz as of Wednesday morning, but there were still a significant number of votes to be counted.
"As of 9:15 a.m. on June 3rd, only 30,373 votes have been reported. The Bucks Board of Elections confirmed this total includes in-person votes, but that 72,000 mail-in ballots had been received as of 8 p.m. June 2nd and the vast majority of these have not yet been tallied. It is crucial that every mail-in, absentee, and provisional ballot be counted before declaring a winner," Hurwitz said.
Finello, according to Democratic sources, has been widely expected to win the primary election. She gained the county party's endorsement earlier this year.