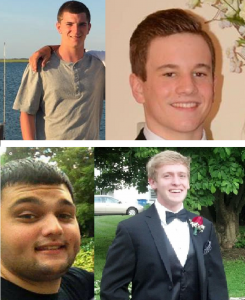 A two-hour TV special airing next week will examine the senseless murders of four young men, a case that rocked Bucks County and the nation in 2017.
Investigation Discovery will air the The Lost Boys of Bucks County on Monday, June 22 from 9 p.m. and 11 p.m.
The documentary will look at the murders of Jimi Patrick, 19, of Newtown Township; Dean Finocchiaro, 19, of Middletown; Thomas Meo, 21, of Plumstead Township; and Mark Sturgis, 22, of Pennsburg, Montgomery County, at the Solebury Township farm owned by the DiNardo family of Bensalem in July 2017.
Cosmo DiNardo was sentenced to four life terms in prison for the July 2017 murders and DiNardo's cousin, Sean Kratz, was sentenced to life in prison for his involvement in the three men's deaths. A civil lawsuit against DiNardo's parents is moving forward.
The documentary features interviews with the parents and grandparents of the victims, Middletown Township Officer Megan Freer, former Solebury Township Officer Gary Forrester, Solebury Township Detective Corporal Jonathan Koretzky, reporter Colt Shaw, and NewtownPANow.com Publisher Tom Sofield, who worked with reporters Amanda Burg and Erich Martin to cover the case.
The documentary focuses largely on the in-depth investigation into the case and shows how it unraveled. The two-hour special offers extended interviews with the families of the young men who were murdered.
Sofield worked with the production team on the documentary since January 2018. Shooting wrapped up in early March.