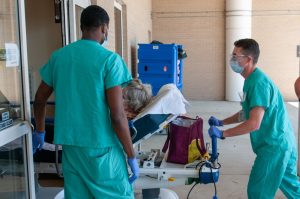 The day before Gov. Tom Wolf will announce Bucks County will move to the "green" phase of his reopen plan, Bucks County continued to report a low number of new COVID-19 infections.
The county health department reported 19 new cases and two cases where reporting was so delayed the patients were no longer considered infectious, officials said Thursday night.
Of the 21 cases, 10 caught coronavirus through household contact, four were from community spread, one was a resident of a long-term care center, one got sick through a health care setting, and one was through an out-of-state exposure. The remainder were unable to be reached by contact tracers.
Three Bucks Countians with COVID-19 died. Two of them were residents of long-term care facilities and had underlying health issues, officials said.
As of Thursday night, 79 residents were in local hospitals due to COVID-19 and 14 were in critical condition on ventilators.
Since the pandemic began, there have been 5,187 positive cases in Bucks County, 499 deaths, and 2,752 people confirmed recoveries.