A plan by DeLuca Construction to demolish three old buildings and put up two new single-family homes in Newtown Township has drawn opposition from both neighbors and township supervisors.
DeLuca is proposing to subdivide a 3.1-acre tract at 70 Twining Bridge Road, demolish two houses and a barn now on the property and construct two single-family homes on the subdivided lots. The current plan is a change from a proposal that had the property being subdivided into three lots.
While attorney Joe Blackburn and other DeLuca representatives believe the project would be an improvement, the supervisors aren't convinced. At last week's meeting, they voted 4-1 to send the township solicitor to speak in opposition to some zoning relief for the project at Thursday evening's zoning hearing board meeting, where the relief is scheduled to be considered.
Supervisors John Mack, Elen Snyder, Kyle Davis and Phil Calabro all voted to send the solicitor to speak in opposition, with board Chairman Dennis Fisher the only dissenter. The supervisors had previously send a letter to the ZHB opposing the zoning relief.
A majority of the supervisors feel the buildings might have historical value, and Mack added he didn't like the plan for each of the two new homes to have its own driveway.
"I think two driveways would add to rain water runoff," he said. "Having one driveway would have been better than two."
Blackburn responded that the project would include adding a stormwater management system to a property that currently has none. On the issue of historical value of the old buildings, he said that determination would be made when township officials review DeLuca's application for a demolition permit. The project would also need land development approval from the supervisors to move forward.
One DeLuca representative said he believed two of the old buildings date from around 1850 and 1860, but added that just because buildings are old doesn't necessarily mean they have historical value.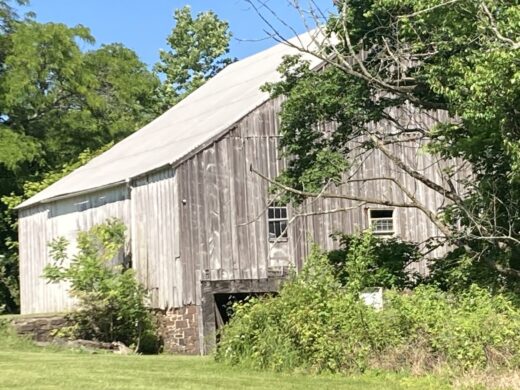 At last week's supervisors' meeting, one nearby resident complained that one of the proposed new houses would be "right outside my front lawn. I don't think it's right. We're the ones who will be affected most."
When asked by board member Davis whether DeLuca would consider building only one house, Blackburn answered that the high cost of remediating asbestos in the old buildings, removing underground storage tanks and other problems on the property would not make that economically feasible. He added DeLuca recently held a meeting with about 15 to 20 nearby residents.
"I think a lot of the concerns were addressed," Blackburn said. "I won't profess that everyone is on board."
Bill Mahler, chairman of the Newtown Joint Historical Commission, objected to Blackburn's characterization of the condition of the old buildings as "deplorable."
"I think they are very salvageable and in a position to be preserved," Mahler said.