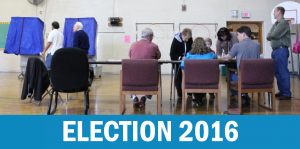 A congressional debate double-header will take place at Thursday at Bucks County Community College's Lower Bucks Campus.
The college will host two party-specific debates featuring the candidates seeking their party's nomination in the primary for the 8th Congressional district.
Republican candidates Marc Duome of Buckingham, Brian Fitzpatrick of Middletown and Andy Warren of Middletown will face off first from 10 a.m. until 11: 15 a.m. Next up, Democrats  Shaughnessy Naughton of Upper Bucks County and Steve Santarsiero of Lower Makefield will debate from 12:15 p.m. until 1:30 p.m.
Bristol Borough resident and community college political science and American national government professor Bill Pezza will moderate both debates.
The debate will be held the in the large atrium of the Bristol Township campus at 1304 Veterans Highway (Route 413) in Bristol Township.
For more information, call the Lower Bucks Campus at 267-685-4800.