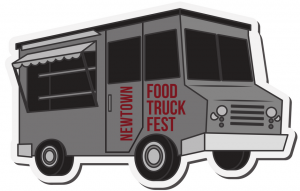 Council Rock High School North will host delicious food, music and family activities this summer in support of the nation's oldest continuously operating movie theater.
The first-ever 'Food Truck Fest' is set for Sunday, June 18 from 5 to 8 p.m. at the Newtown Township high school.
The Father's Day event, which comes with a suggested donation of $10 from attendees, is sponsored by the First National Bank of Newtown. All donations will benefit The Newtown Theatre at 120 South State Street in Newtown Borough.
Located in the heart of Newtown Borough, the historic Newtown Theatre has an extensive history dating back to 1831. Originally built as a hall for town gatherings and a non-sectarian church for traveling ministers, it soon became a center of entertainment in the area. In 1906 the first movie was shown, making it the oldest movie theater in the United States.
Confirmed food trucks for the event include Blend Life, Cow and the Curd, Dump-n-Roll, Foolish Waffles, Good Food = Good Mood, Nina's Waffles and Ice Cream, Nomad Pizza, Phyllodelphia, Pie Stand, and Sweet Box.
Those who attend are invited to bring their own blankets or chairs.