Three days worth of activities have been planned for the public at Washington Crossing Historic Park for the upcoming Fourth of July holiday.
The Independence Day activities kick off on Sunday, July 2 at 6 p.m. with an old-fashioned community picnic where attendees are invited to bring their own dinner, picnic supplies and lawn games. Prizes will be awarded for the most creative picnic display, the most delectable menu and the best in show. Picnickers should register here. At 8 p.m. the Broad Street Brass will hold a free concert featuring patriotic music and other selections. The day will end with a firework show at 9 p.m., the rain date for the fireworks is schedule for July 7. Visitors can catch all the day's activities in the large field diagonal to the park's Visitor Center and across River Road in Upper Makefield.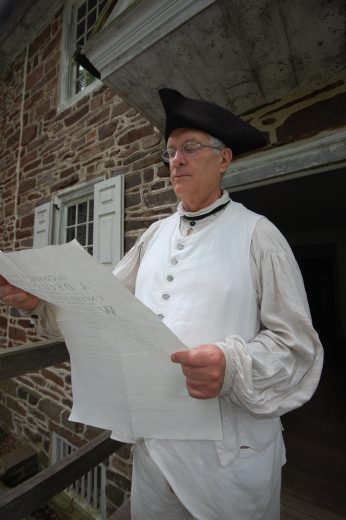 On Monday, July 3, a full slate of outdoor recreational activities will be sponsored by the Pennsylvania Department of Conservation and Natural Resources. Activities include: Geocaching 101 at 10 a.m. This activity is free but participants need to register here; the activity will begin at the Visitor Center and is limited to 10 families. A Wildlife Olympics for Kids (ages four to 12) will begin at 1 p.m. The activity is free and registration is not required. Those participating should meet in the large field diagonal from the Visitor Center and across River Road. A family bike ride on the canal towpath will commence at 3 p.m. The free, no registration event will begin at the General Sullivan pavilion behind the Thompson-Neely House at 1638 River Road in Solebury (New Hope.) Those participating should bring their own bikes and be prepared for the eight mile trek.
The festivities will end on Tuesday, July 4 where participants can see live historians demonstrate their crafts, tour historic buildings, and see a military encampment from noon to 4 p.m. A highlight of the day will be readings of the Declaration of Independence at 12:30 p.m., 1:30 p.m., 2:30 p.m. and 3:30 p.m.. Admission to the event, which will be held rain or shine, is $8 for adults (age 12 and over), $4 for children (ages five to 11) and free for those under age five. Refreshments will also be available for purchase and all proceeds from this event support educational and historical programming in the park.
A classic car show announced and scheduled for July 2 was cancelled.