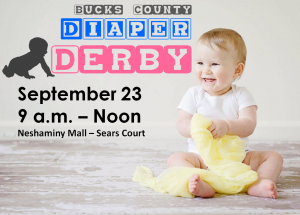 The inaugural outing of the Bucks County Diaper Derby is gearing up and getting ready to crawl.
The Saturday, Sept. 23 family-friendly community event will take place at the Neshaminy Mall in Bensalem from 9 a.m. until noon. The event, which is sponsored by Blonder's Appliances, will feature numerous vendors, music and plenty of activities for the kids.
Contestants for the Bucks County Diaper Derby will be from around the area. Babies taking part in the heat races and competing to win have the chance to win hundreds of dollars in grand prizes, including a $150 gift card from Inspire Federal Credit Union for the first place winner.
"This is going to be a great time for families of all ages, and really fun to take part in," said NewtownPANow.com Publisher Tom Sofield, whose news organization is putting on the event. "Be sure not to miss this."
Babies who take part in the heat races cannot be older than 14 months and must crawl for the entirety of their jaunt across the race mat. Babies must be accompanied by 2 adults: one launcher and one caller, who may bring some of the little one's favorite objects to entice them to cross the mat. (See the full rules)
Each baby who takes part in the race will receive a onesie specially made for the Bucks County Diaper Derby.
"LevittownNow.com and NewtownPANow.com wanted a way to bring the community together with a unique family-oriented event," stated Jennifer Schultz, who is organizing the event for the news organizations. "I mean, what could be cuter or more fun than a baby race?"
"The amount of vendors and families who have shown interest is great, and we're really pleased to have so many families planning to attend," Sofield said. "May the best baby win!"
To register your baby for the race, please click here.
See our vendors (list growing daily):
Amazing Rescued Designs & Crafts
If you're interested in being a vendor or sponsor, contact Jennifer Schultz at 267-981-5976 or jennifer@recruitmentqueen.com.