By Dave Lemery | Watchdog.org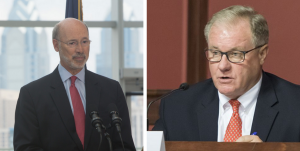 Pennsylvania's Democratic Gov. Tom Wolf and his Republican challenger, former state Sen. Scott Wagner, might not agree on much when it comes to policy. But one thing they agreed upon recently was the necessity of appearing before the annual conference of the County Commissioners Association of Pennsylvania.
They spoke on different days of the conference, each looking to impart to the gathered leaders why they would be the best choice to lead the state after the November election.
Wolf flattered his audience by noting that county governments can have an outsized impact on the citizens they serve, even compared to high-profile nonprofit organizations.
"Back when I was chairman of the United Way, we had a record campaign and in York County, we raised $7 million," he said. "That same year, and this was in the 1980s, … the county human services budget was $45 million. … I spent a lot of time and a lot of effort on that United Way campaign … but that same year, what the county commissioners did was so much more impactful on the lives of the people of York County."
Wagner revisited his commitment to introducing zero-based budgeting if he becomes governor, vowing that it could save as much as $4 billion in his first year in office. And he asked the commissioners to think about ways to revise and simplify the state's tax laws.
"The current tax code and mandates that have been written by lawyers, lobbyists and consultants, we need to revamp everything," he said. "[Maryland] Governor [Larry] Hogan, his first year in office, he rolled back 200 regulations by executive order, 70 or 80 [in each of the following three years]. … I'm looking forward to input from all the county commissioners on regulations that could be rolled back."
The governor sought to paint himself as a responsible steward of public dollars, talking about his efforts in the four state budgets that have passed during his time in office to increase funding for education – though he did not mention that he did not sign the first three budgets.
"One of the things that attracted me to the governor's office was that we really needed to do a better job in Pennsylvania – and we still have a long way to go," he said. "You have to make the budget balance. And so I did that, and worked really hard to get to the point that a few weeks ago, I was able to … make a deposit for the first time in, I think, 11 years in the rainy day fund of Pennsylvania."
He also talked at length about his desire to improve education across the state, perhaps showing some sensitivity to recent attacks by the Wagner campaign over Wolf's support of a school funding formula that could negatively impact rural and suburban districts by $1.3 billion.
"I care about the education kids get in Tioga County," he said. "I care about the education of the kids get the Erie County, in Philadelphia County, all across Pennsylvania. Because if they don't get, if a child, somewhere, anywhere in the state doesn't get a good education, my life is going to be diminished."
Wagner, in addition to warning about the funding formula change, argued that the restorations Wolf has made toward education spending aren't actually having an impact in the classroom.
"Governor Wolf has put $1 billion back in the education system, about $250 million a year," he said. "And that's accurate. But I guarantee you, and I'll stand here and I will challenge anybody to prove me wrong, not one penny has reached the classrooms. It's gone to health insurance costs, it's gone to pension costs, and it's gone to increased labor costs. Not a penny has gotten into classrooms."
The former senator also received a strong round of applause from the commissioners when he vowed to address the rising cost of property taxes.
"[One complaint] that I have heard for the last four years as I've traveled around Pennsylvania are school taxes on everyone's home," he said. "And I've made this pledge, and I'm going out on a limb, and I am determined to do it, and I know it can be done. I tell people, if you vote for me, and I become the next governor of Pennsylvania, I will eliminate the school taxes on your home. I know how to do it."
Wolf sought to ease concerns from local officials about the costs of improving the state's voting system. In the wake of allegations that American voting authorities may have been compromised by foreign agents, the governor has put together a task force to look at ways to prevent any intrusions.
"The Department of Homeland Security suggests that Pennsylvania … was not the victim of hacking back in the 2016 election," he said. "You know that, I know that, but it still means we have to do some some work to make sure that we're on the right track. … Your concern, I think one of your concerns is the cost of that. And that's my concern too, one of the reasons I sent a letter to Congress saying, 'You've already appropriated some money, how about a little more so that we can actually make it affordable for our counties to get into the 21st century.'"