By Dave Lemery | Watchdog.org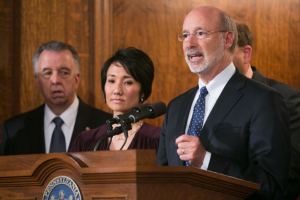 Pennsylvania's Democratic Gov. Tom Wolf has often tried to undercut the general impression that his party is hostile to the interests of the business community by citing his own background as a businessman. Before running for the state's top office in 2014, the closest he had come to politics was in serving on a variety of advisory commissions and a brief stint as the head of the Pennsylvania Department of Revenue.
As Wolf gets set to for his inauguration to his second term in office on Tuesday, the administration has ramped up the focus on the health of the business community under hi's guidance. Through a news conference and series of news releases, Pennsylvanians have been presented with a narrative of a governor who is singularly committed to the health of the state's economy.
But a recent Forbes report, "The Best States for Business," somewhat undercuts that narrative. The annual ranking of the 50 states based on a wide-ranging series of metrics puts Pennsylvania 30th among the U.S. states in the quality of its business climate – a drop from a 27th-place finish a year earlier.
If Wolf was aware of the Forbes report's findings, there was no sign of it when he addressed a news conference Thursday afternoon and rattled off all the ways the state, under his leadership, has been friendly to business.
"Pennsylvania is a an amazing place to do business," Wolf said. "I built a business here. I owned a business in Pennsylvania, and I know that for a fact. This administration, all of us, are doing things to try to make this an even better place to do business."
Asked specifically if the state's taxation structure was an impediment to attracting outside businesses, Wolf argued that it is not.
"I think Pennsylvania's personal income tax is one of the lowest, if not the lowest in the United States," he said. "We have exemptions for food and clothing in our sales tax which actually makes that have essentially a 4 percent, something like that tax, which makes it in the bottom half in the United States. So we're a fairly good good place to do business. … The corporate income tax, I think is too high, and I finished the job phasing out the … capital stock and franchise tax. I think Pennsylvania's in a pretty good position when it comes to taxes."
Of the 42 states that levy a personal incomes tax, Pennsylvania's is third lowest at 3.07 percent, according to the Tax Foundation. It's 9.99 percent corporate income tax is second highest.
And according to Forbes, the tax structure isn't quite as rosy as the governor makes it out to be.
"Pennsylvania is expected to have the nation's third slowest population growth through 2022 and the Tax Foundation ranks Pennsylvania second worst for corporate headquarters based on its analysis of state tax costs on business," Forbes wrote.
In listing some of the key subcategories of their overall scores, Forbes rated Pennsylvania 34th in regulatory environment and 44th in growth prospects.
The public relations arm of the Wolf administration, meanwhile, has been hard at work this week blasting out news releases that depict the state – and the governor – as exceptionally welcoming to business. Both Wolf's own press office and the Department of Community & Economic Development have been pumping out news items with headlines such as "Governor Wolf Showcases First Term Advancements in Economic Development, Infrastructure," "Governor Wolf Announces $2.6 Million to Prepare Students for High Growth Jobs" and "Low-Interest Loan Financing Provided by Wolf Administration in 2018 Will Support More Than 4,300 Jobs."
DCED Secretary Dennis Davin, during Thursday's news conference, wanted to be sure that everyone got the message that it was Wolf himself who is largely responsible for the state's economic progress.
"We'll continue to invest in our communities, our businesses and our infrastructure in order to help the commonwealth grow and thrive," Davin said as Wolf looked on. "So I want to thank Governor Wolf for his leadership and his business acumen in guiding Pennsylvania's economy forward, and I'm looking forward to what these next four years will hold."
Michael Torres, senior communications director with the nonprofit Commonwealth Foundation, was less impressed with the administration's moves to encourage business growth.
"It's nice that @GovernorTomWolf is making websites to help businesses navigate the colossal web of red tape his administration lays on them," Torres wrote Friday morning on Twitter. "It is like trying help someone run under water by giving them a rock to stay firmly on the ground. But, at least it's an effort?"