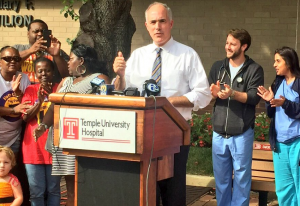 He's not running.
U.S. Sen. Bob Casey, a Democrat who represents Pennsylvania, announced in a statement Friday morning that he will not run for president in 2020.
"After two months of considering it, I have concluded that the best way for me to fight for the America that so many of us believe in is to stay in the U.S. Senate and not run for the presidency in 2020," Casey said in the statement that was released to reporters.
Casey's announcement comes as the Democratic 2020 primary race becomes more and more crowded.
"With all of these challenges confronting us and with our Commonwealth playing a potentially decisive role in the 2020 vote, I believed it was important for me to at least consider the monumental undertaking of running for President," Casey said in a statement," the statement said.
The senator hit Republican President Donald Trump for undermining important institutions and said he believes Democrats will nominate a presidential candidate who can win in 2020.
Casey won his Senate seat for six more years in 2018.