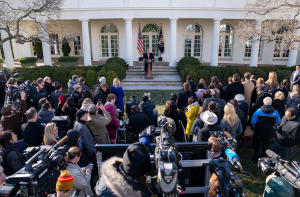 After President Donald Trump agreed to reopen the government and end the 35-day partial shutdown, agencies began to resume full operations this week and in time for the Internal Revenue Service to begin processing 2018 tax filings.
Republican Congressman Brian Fitzpatrick, who opposed the shutdown from the beginning, released a statement on the president's move and the fact that a continuing resolution would keep the government funded through February 15.
Below is the congressman's statement:
"Government shutdowns are costly and inefficient. This impasse—the longest in American history—has been detrimental to federal employees, disrupted the traveling public, and has led to damage in our national parks."

"While I appreciate that a tentative deal has been reached to reopen the federal government, this lengthy interruption of government services has been harmful to the American people and civil discourse. Over the next three weeks, it is imperative that Republicans and Democrats compromise on policies that fund the federal government and enforce border security to ensure such a stalemate does not reoccur."
Since the shutdown began shortly before Christmas, about 800,000 federal employees missed two consecutive paychecks, but legislation approved by Congress and signed by Trump ensured that furloughed workers would receive back pay once the government reopened. Members of the U.S. Coast Guard were among those who did not get paid on time.
Fitzpatrick was a vocally against the shutdown and made numerous appearances on cable news denouncing the shutdown. While he has acknowledged border security is important, he said Trump's government shutdown was not the way to do it.
The funding bill that reopened the government until mid-February does not include money for the start of Trump's "great wall" along the American and Mexican border. In the weeks before the shutdown, the president said the blame for the shutdown would fall on him as he pushed to secure funding to begin the wall.
The border wall was a hallmark of the president's 2016 campaign and time in office, drawing him acclaim from supporters and rebukes from others. He initially told the American people the wall would be paid for by Mexico and later stated Mexico would pay for the wall "later" through trade deals and cuts in aid.
Estimates have pegged the cost of the border wall at $12 billion to $25 billion.
The shutdown impacted workers not just in Washington D.C. but around the country, including Bucks County. Area eateries and banks offered programs to help furloughed workers until they received back pay.
State officials have tried to keep Pennsylvanians who are on government assistance that is funded federally in the loop on where programs stand. While many assistance programs had funding for January and February, the future was uncertain.