By Dave Fidlin | Watchdog.org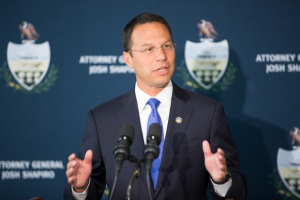 Lawmakers on the Pennsylvania House Appropriations Committee lobbed a number of questions at Attorney General Josh Shapiro amid a two-hour hearing Wednesday. A number of them circled around the opioid epidemic, which has hit portions of the commonwealth especially hard in recent years.
Shapiro, a Democrat, is one of a number of state officials meeting with the appropriations committee as the lawmakers hold a string of budget hearings through the end of the month.
A number of the lawmakers on the appropriations committee used the hearing as a platform to share their ongoing concerns about opioid overdoses and deaths and asked Shapiro for a progress update on his office's work to combat the issue.
"We see a lot of drugs coming into Indiana County," said Rep. Jim Struzzi, R-White Township, who lost a brother to a drug overdose and prefaced his comments by saying, "I care deeply about this."
Struzzi further said his area has been hit hard because drug traffickers are using the area to funnel opioids, heroin, fentanyl and other highly addictive drugs to other, more populated areas. "It's almost like a spoke," he said.
Throughout the hearing, Shapiro said he has been working with his counterparts in other states – particularly nearby ones – to combat the issue. At the moment, Shapiro said some of his office's focus is on the pharmaceutical industry.
"This is a crisis," Shapiro said. "Some of the pharmaceutical products are the jet fuel to this crisis. We are making progress."
Several lawmakers on the appropriation committee also asked Shapiro to weigh in on the hot-button topic of legalizing marijuana for recreational use, though he skirted the issue each time it came up.
"I'm a law enforcer, not a lawmaker," Shapiro said early in the hearing. "My job is to protect the laws that are on the books. My only guidance would be to include law enforcement in these conversations."
Some of the state lawmakers who raised the marijuana-laced questions did use their time to share their own views on the topic.
"I, myself, am a believer marijuana is a gateway drug," Rep. George Dunbar, R-Jeannette, said.
Throughout the two-hour hearing, Shapiro was asked to comment on several specific cases. In most instances, he spoke in generalities because investigations into the particular incidents are ongoing.
Rep. Morgan Cephas, D-Philadelphia, asked Shapiro to comment on the probe into allegations Wells Fargo has been involved in so-called redlining cases in her jurisdiction. A year ago, multiple investigations into the accusations were opened on allegations the financial institution denied a disproportionate number of home purchase applications from persons of color.
"I can't get into the status of our investigation now," Shapiro said, in response. "However, I think there will be a time when we can present the findings of our investigation."
In a big-picture sense, Shapiro said his office takes redlining seriously.
"It's something that not only hurts that individual, but it holds a whole community back – a whole city back. We won't tolerate it."