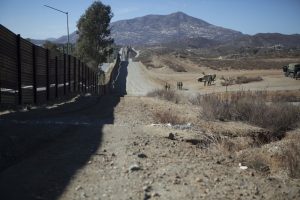 Congressman Brian Fitzpatrick reacted after President Donald Trump declared a national emergency to bypass Congressional appropriations and fund construction of his promised border wall.
In a press conference on Friday, the Republican president said he took the action because the wall needs to be built to stem "an invasion of our country" that would bring drugs, criminals, and gangs.
"We're going to confront the national security crisis on our southern border. And we're going to do it one way or the other – we have to do it – not because it was a campaign promise, which it is," Trump told the nation.
Fitzpatrick, a Republican from Middletown, told LevittownNow.com that he strongly supports securing the border and comprehensive immigration reform but has concerns about how Trump's national emergency will stand to expected court challenges. He called the move by the president an "ill-advised strategy."
Trump's frustration that led to the national emergency stems from the latest federal spending bill that provides $1.4 billion to start construction of the wall along a roughly 55 mile stretch of the border with Mexico. Previously, offers for funding have fallen apart and ended up leading to a record-setting 35-day partial government shutdown that the Congressional Budget Office estimated cost the nation $3 billion in gross domestic product.
The national emergency, White House Acting Chief of Staff Mick Mulvaney said on a press call, will allow Trump to pull $3.6 billion in military construction funds, $1.375 billion in the appropriations, $600 million from U.S. Treasury forfeiture funds, and $2.5 billion from military counter drug funding that will be put toward efforts to construct a border wall.
The congressman said he was frustrated that 2018's Goodlatte-McCaul immigration legislation did not move forward. He said the bill was a compromise that included billions for border barriers, a deal for Deferred Action for Childhood Arrivals (Dreamers), and enhanced border security.
One concern the congressman has with the president's move is the fact that Trump's intention with the national emergency was to bypass Congress to find funding for the wall.
"These are matters Congress should deal with," he said.
While there have been several dozen national emergencies declared by presidents over the years, Trump's latest is the most controversial in recent memory. NPR reported there will be a number of lawsuits filed in opposition and Congress is expected to raise concerns.
"I expect to be sued. I shouldn't be sued. Very rarely do you get sued when you do national emergency. And then other people say, 'Oh, if you use it for this, now what are we using it for?' We got to get rid of drugs and gangs and people. It's an invasion. We have an invasion of drugs and criminals coming into our country that we stop, but it's very hard to stop. With a wall, it would be very easy," Trump said during his comments in the Rose Garden on Friday.
While there has been plenty of talk, Fitzpatrick said that he has yet to see a comprehensive plan from the White House on border security and how funding would be directed.
The congressman has said in the past that he believes there should be a comprehensive assessment of the border, its terrain, and options from experts on the ground, noting throwing money at a problem without a plan will not help. He added that a physical barrier could work along portions of the border. 
"Border security is not a one size fits all proposition," he said.
Fitzpatrick, an attorney and former FBI special agent, said improving border security and comprehensive immigration reform is "imperative," but it will not be solved by elected officials who are "dug into ideological corners."
"Each one of us have a responsibility to be a leader in our own right … While I respect the president's ultimate goal, I think there's a better way to go about it."
Fitzpatrick stated that a solution to the border issue will come from comprehensive immigration reform and listening to what experts on the matter have to say.
"I don't want to be just chanting phrases that fit on a bumper stickers," he said.
Fitzpatrick said he will continue working toward solutions on comprehensive immigration reform and border security.