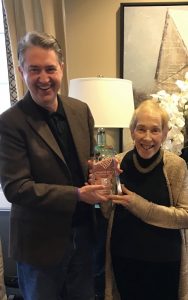 A Newtown business owner was recognized for their work with the Doylestown-based Dementia Society of America.
On Demand! Programs and Events Founder Natalie Joy Kaye was recently surprised with the Dementia Society Diplomat Award for work to provide music programs for those living with dementia.
Dementia Society of America President and Founder Kevin Jameson, who NewtownPANow.com profiled in 2016, presented Kaye with the award.
"The Dementia Society was founded by asking questions like, 'Wouldn't it be transformative if more people living with Dementia, along with their caregivers and care partners, could benefit from non-medical programs devoted to enrichment of their quality-of-life?' Jameson said. "We believe the answer was, and is, 'Yes!' We strive to recognize those individuals who reflect the qualities we espouse in our mission and seek to further our work."
Kaye's ongoing work for those living with dementia is supported in part by the Dementia Society of America's Ginny Gives Grants program.
"I am thrilled to receive the Diplomat Award and honored to partner with the Dementia Society of America, so that those living with Dementia, and their caregivers, can enjoy the incredible benefits of music and the arts," Kaye said.
As part of the programming violinist Claudia Pellegrini; pianist-vocalists Jeff Dershin, George Sinkler, Marc Sherman, and Avi Wisnia; multi-instrumentalist Courtney Colletti; and harpist Mary Groce have performed.