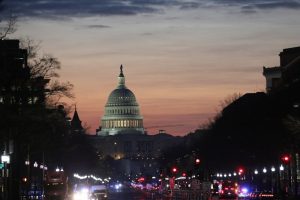 Although Congressman Brian Fitzpatrick has supported increasing border security, he voted against President Donald Trump's declaration of a national emergency along the United States border with Mexico.
The second-term Republican congressman's vote came Tuesday evening as he joined 12 other of his GOP peers. The joint resolution passed 245-182 and there is a growing chance it will pass in the Senate.
The congress has a Democratic majority, and the Senate is controlled by Republicans.
If the resolution makes it to the Republican president's desk, he is expected to veto it.
"Will I veto it? 100 percent," Trump said last week, according to PBS News Hour.
"This is much bigger than any one issue, and any one President. This is about the Constitution, the separation of powers, and about setting precedents that apply equally to all future Congresses and all future Presidents," Fitzpatrick said in a tweet Tuesday evening.
House of Representatives Speaker Nancy Pelosi, a Democrat from California, said the vote upheld the separation of powers between the three branches of government that are laid out in the Constitution.
Fitzpatrick told NewtownPANow.com shortly after Trump's national emergency announcement that his main opposition had to do with bypassing Congress in appropriating funding.
"These are matters Congress should deal with," he said.
The congressman said he supported a comprehensive plan for border security and has supported efforts to make the boundary more secure, noting the White House had not laid out a full plan for their wall.
"Each one of us have a responsibility to be a leader in our own right … While I respect the president's ultimate goal, I think there's a better way to go about it," he said.
Speaking from the Rose Garden at the White House earlier this month, Trump's national emergency stems from the latest federal spending bill that would free up money already allocated by Congress to fund the start of construction on the president's border wall, a keystone of his 2016 campaign.
During his campaign, Trump had pledged repeatedly that Mexico would pay for the wall. However, funding for the wall has fallen on the American government as time passed, which the president recently said would be paid for by Mexico "indirectly by the great new trade deal we have made."
The national emergency, White House Acting Chief of Staff Mick Mulvaney said at the time on a press call, would allow Trump to pull $3.6 billion in military construction funds, $1.375 billion in the appropriations, $600 million from U.S. Treasury forfeiture funds, and $2.5 billion from military counter drug funding that will be put toward efforts to construct a border wall.
The national emergency declaration came after lawmakers provided $1.4 billion for a stretch of wall that ran roughly 55 miles. The wall funding standoff ended up being to blame for a record-setting 35-day partial government shutdown that the Congressional Budget Office estimated cost the nation $3 billion in gross domestic product.
Many Democrats and some Republican lawmakers chided the national emergency declaration. Some Democrats raised the point that situation at the border did not rise to the level of a national emergency.