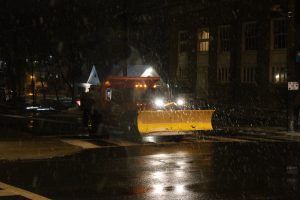 A Winter Weather Advisory was issued for Lower Bucks County in advance of an expected light snow that will fall starting early Friday morning.
The National Weather Service called for 1 to 2 inches of snow to fall across the area starting early Friday morning. The snow will wrap up by early afternoon.
"A minor but poorly timed snow event will lead to travel disruption for tomorrow morning's commute," forecasters said.
The small storm follows a light dusting of snow that fell across the region Thursday and caused slippery roads.
On Saturday and Sunday, there will be opportunities for rain and snow, but accumulation is not expected to be significant.