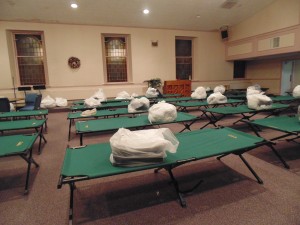 Bucks County appears to have a decreasing number of homeless residents, according to preliminary numbers released from the January 29 point-in-time count.
The data released last week by officials shows that 359 men, women, and children experiencing homelessness were counted during the federally-mandated count that was carried out by volunteers across the county. The number is down from a high of 519 people in 2014 and 9.6 percent lower than last year.
Breaking down the latest preliminary data, there were 270 people sleeping in emergency shelters or transitional housing units, 68 were spending the night in Code Blue temporary shelters, and 21 others were staying outdoors or in other places not meant to house people. The majority of those who were homeless were female.
A further look of the data shows that 124 of those who were homeless were children under the age of 18, 26 were young adults between the age of 18 and 24, 28 were victims of domestic violence, and six identified as military veterans.
County officials said the drop from 13 homeless veterans recorded in 2018 to only six this year has been impacted by the work of the Bucks County Veterans Action Team. The team brings together county officials, staff from the U.S. Department of Veterans Affairs, and nonprofit organizations to identify and find housing for veterans who need assistance.
Bucks County Commissioner Chairman Robert G. Loughery said the county's efforts to reduce homelessness area a "collaborative effort, focused on getting families and individuals who experience homelessness into temporary – and then, hopefully, permanent – shelter."
Officials in the county have attributed the lower homeless numbers to increasing funding for a housing first approach, additional outreach workers to connect homeless people to support programs, and the creation of housing locators to help families and individuals more quickly locate affordable and safe housing.
"These efforts will continue, and so will our approach to make sure there is more affordable housing in the county for families," Loughery said.
"I will encourage Bucks County to continue a stalwart effort to ensure that every resident has a home," said Bucks County Commissioner Diane Ellis-Marseglia.
Although the number of homeless people tallied during the point-in-time count dropped, Bucks County officials said the number of people who connected with the housing hotline has grown. In 2018, Bucks County Housing Link completed 5,882 screenings, a 19 percent increase from 2017.
While the point-in-time count is used across the country, the National Law Center on Homelessness and Poverty has raised concerns over the years, pointing to supposed flaws with the methodology, concerns that the definitions of homelessness is too narrow, and discrepancies with data on homeless kids from the U.S. Department of Education.
Those experiencing homelessness or looking to be connected with resources can contact Bucks County Housing Link at 1-800-810-4434.